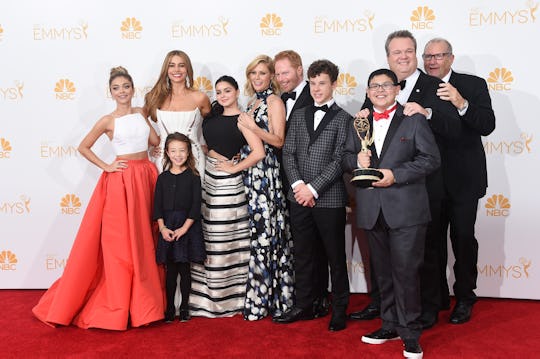 Jason Merritt/Getty Images Entertainment/Getty Images
Who Is The Transgender Child Actor 'Modern Family' Cast? Jackson Millarker Made History
This family just got an upgrade. ABC's hit show Modern Family has cast its first transgender child actor, according to Mashable. Eight-year-old Jackson Millarker will make his debut during Wednesday's episode as Tom.
Lily, the show's gay couple's daughter, invites Tom over for play-date. The couple is excited that their daughter is open-minded and accepting, but then realizes Lily still has some learning to do. Of course, there will be a teachable moment.
Millarker, who is from Atlanta, is the first openly transgender child star to be cast in a show as popular as Modern Family, and it's not clear if he'll have a recurring role. Other shows who have cast trans actors include Orange Is The New Black, Nashville, and I Am Jazz, a reality show on TLC, according to Variety.
Orange Is The New Black set the standard for hiring diverse actors. Laverne Cox, a trans activists who is a trans woman and plays a trans woman on the show, has been a hugely popular character on the show. Cox has helped people learn why having cisgender actors play transgender characters is harmful and perpetuates violence towards the trans community. Her popularity has helped to raise awareness for trans rights among the mainstream public. So it's no small thing that Millarker, a trans male, has been hired to play a trans male on Modern Family.
The episode's director, Ryan Case, shared this Instagram from the set with this caption:
This is Jackson Millarker. He's 8 years old, from Atlanta, and just happens to be transgender. He plays Lily's friend Tom in this week's Modern Family and he's wonderful. One of the many reasons I love being a part of this show. ❤️🎬💯
It's another step forward for the television industry, which has often cast non-minority actors for minority roles. For example, actor Jeffrey Tambor plays a transgender woman in Amazon's show Transparent. After winning an Emmy for the role this year, the actor urged the industry to do a better job at finding transgender talent. "I would not be unhappy if I were the last cisgender male to play a female transgender on television. We have work to do," Tambor said.
In late August, Mark Ruffalo came under fire for casting cis male Matt Bomer as a female transgender sex worker in his upcoming film Anything, according to ThinkProgress. And before that, the producers of The Danish Girl were criticized by the LGBT community for failing to cast a trans woman as the lead, instead casting Eddie Redmayne.
So although Millarker's casting wasn't for a blockbuster film or a lead role, it's still important because it's helping to normalize trans actors in the public perception and bring their talents to mainstream audiences. And for once, because a trans person is actually playing a trans person.