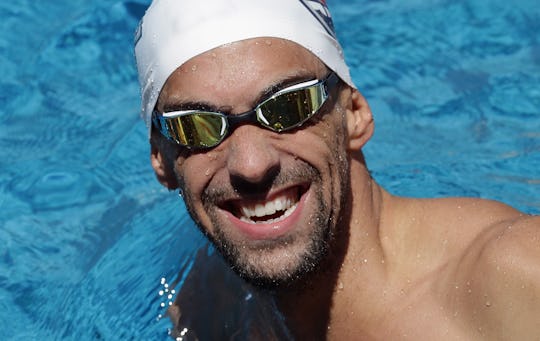 Ronald Martinez/Getty Images Sport/Getty Images
Who Is The US Flag Bearer At The Olympics? Michael Phelps Was Chosen By His Team
During the opening ceremonies of the Olympics, there's no greater honor than carrying the flag for one's country. On Wednesday morning, Today reported that this year, Team USA's flag bearer is Michael Phelps, the most decorated Olympic athlete of all time. The distinction was voted on by Phelps' fellow U.S. Olympians, but really, the choice was a no-brainer. With 22 medals so far (and 18 gold), the swimmer blows all other athletes out of the water (no pun intended). Coming in a distant second is Soviet gymnast Larisa Latynina, who earned her 18th medal in 1964, meaning Phelp's record is in no danger of being broken by anyone but himself.
Phelps began swimming at age 7, according to his official Olympics bio, using the sport as an outlet for boundless energy that resulted from his ADD diagnosis. He joined Team USA in 2000 for the Sydney Olympics when he was just 15, and although he didn't win, he came back in full force four years later, qualifying for an unprecedented six events in the Athens Olympics, breaking a handful of world records and winning six gold medals and two bronze, according to Fox Sports. In Beijing in 2008, winning eight more gold medals and setting at least as many records. In 2012's London Olympics, he won four more gold and two silver.
The London Olympics were supposed to be Phelps' last, but in 2014, he came out of retirement, telling USA Today, "Retirement was pretty boring, to be honest. It's funny; I literally would do nothing. If I was at home, I'd always try to, like, golf, or do something with friends, but everyone was working." Without the pressure to break more records or win more medals, Phelps reportedly enjoyed swimming more. "There's a lot more smiling, I think, on the pool deck now than there was in the past," said his coach, Bob Bowman.
But what is a competitor who doesn't compete? A year later, according to Sports Illustrated, Phelps announced that he would try out for the 2016 Rio Olympics, and it seems his teammates are happy to welcome him back to the games. Phelps will carry the U.S. flag during the Parade of Nations portion of the opening ceremony on Friday night, which will be broadcast on a delay beginning at 8 p.m. Eastern Time, according to the Washington Post. The following week, he'll compete in the men's 100 and 200 meter butterfly races, and the men's 200 meter individual medley. If he wins the gold again, he'll set another record: the oldest swimmer to win the gold in Olympic history, at the ripe age of 31.