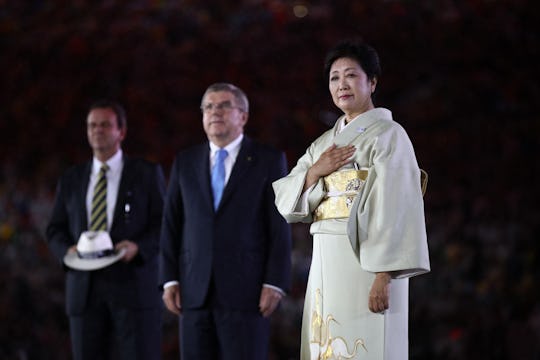 Cameron Spencer/Getty Images Sport/Getty Images
Who Is The Woman Accepting The Olympic Flag At The Closing Ceremony?
Though the 2016 Rio Olympics just ended, the world is already preparing for the 2020 Olympics in Tokyo. And it all begins with the passing of the flag. On Sunday evening, the president of the International Olympic Committee was seen passing the Olympic flag to a woman on stage. So who is the woman accepting the Olympic flag at the closing ceremony and what is her connection to the next games?
At the end of every Olympic games, the official flag is handed from the head of the International Olympic Committee to the governor of the next Olympic host city. During Sunday night's closing ceremony, governor of Tokyo, Yuriko Koike, accepted the flag to signify Tokyo hosting the 2020 Summer games.
According to CNN, Yuriko Koike was just elected earlier this month and is Tokyo's first female governor. She's used to breaking glass ceilings, though. In 2007, she became Japan's first female defense minister, and was later the first woman to run to lead the Liberal Democratic Party. She said that in Japan, the glass ceiling is actually more like "steel." "It's more rigid, more chauvinistic, it's really hard to crash," she todl CNN.
One challenge Koike anticipates is Japan's aging and male-dominated society; another is the 2020 Olympic games. According to CNN, Tokyo has already been under fire for supposedly plagiarizing their logo for The Games. That's not all: plans for a new stadium were dropped due to high costs. "We know the problems," Koike said.
Despite the apparent problems four years out from the next Summer Olympics, Koike and others are working hard to make sure they run as smoothly as possible. According to The Japan Times, she is considering Tokyo's residents and the different costs of the games. "I will not leave white elephants to the taxpayers. I will leave a good legacy," she said. "That is the direction I want to see the games take." Koike appears to be dedicated to Tokyo, its people, and the 2020 games, which makes us all the more excited – if only we did not have to wait another four years.