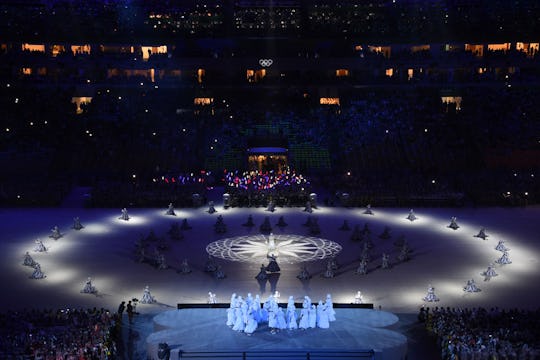 JIM WATSON/AFP/Getty Images
Who Is The Woman In All White At The Closing Ceremony? Brazil Celebrated Its Bahia Culture
The Rio 2016 closing ceremony has featured a kaleidoscope of color, light, and sound, as well as a spirited celebration of the many facets of Brazilian culture and heritage. On Sunday, as projected geometric shapes danced across the stadium floor, a lone woman in white entered the center of the scene, singing an earthy, raw folk tune. Who is the woman in all white at the closing ceremony? She was joined by dozens of other women, all bedecked in white dresses with beautiful white head wraps. While commentators didn't share her name, the segment was a stunningly beautiful tribute to Brazil's Bahia culture.
Bahia is one of Brazil's 26 states, located in the northeastern region of the country on the Atlantic coast. It's often considered the heart of Brazil's Afro-Brazilian culture, with the nation's highest concentration of Afro-Brazilians. Brazil has a rich cultural history, with influences from West Africa and Portugal. The woman in white specifically represented a Mãe-de-Santo, a high priestess within several Afro-Brazilian religions, such as Candomblé. The entire Bahia performance was just as beautiful, as the dancing and singing women in white were bathed in beautiful blue light that began to form intricate patterns on the stadium floor.
After the Mães-de-Santo finished singing, they were joined by more dancers and singers; the performers were draped in rich navy blue semi-ballroom style dresses, their skirts overlaid with intricate white lace patterns. As they began to dance, the floor with lit with stunningly intricate lace patterns that circled in and out of each other, morphing into even more intricate patterns. Lacemaking is another cultural hallmark of the Bahia region, first brought over from Europe when the Portuguese settled in Brazil.
In a closing ceremony that was awash with so much color and light, the women of Bahia performance was a welcome moment of calm and feminine power, and one that no one would forget.