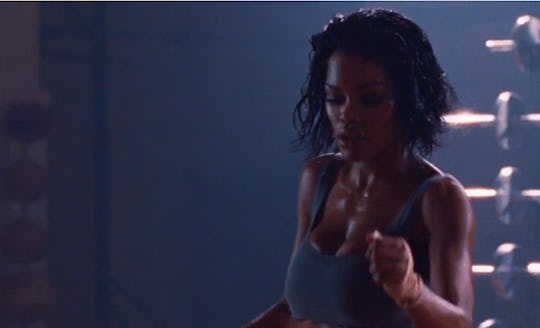 TIDAL
Who Is The Woman In Kanye West's 'Fade' Video? Teyana Taylor Is Stunning
After making a signature meandering four-minute speech, Kanye West debuted his new video for "Fade" at the 2016 MTV VMAs, which he doesn't appear in himself at all. So who is the woman in Kanye West's "Fade" video? The fiercely gorgeous woman starring in the '80s throwback gym-themed video is R&B artist and actress Teyana Taylor.
No one knew what to expect from West, since he skipped the VMAs rehearsal this week. All we knew was that MTV gave him four minutes with which to do whatever he wanted. And, in case you didn't know, four minutes in live TV time is a lifetime to both fill and not have anything go wrong. Considering that fact that Kanye announced his 2020 bid for presidency in his 2015 Video Vanguard Award acceptance speech (which was part-genius and part-incomprehensible), truly anything was possible in his appearance tonight.
After awkwardly shouting/calling out Amber Rose, Taylor Swift, and Ray-J (and Donald Trump and Anna Wintour?), Kanye revealed that the real reason he was at the VMAs, besides to lose gracefully to Beyoncé, was to debut his new video for "Fade" off his 2016 studio album The Life of Pablo. The music video almost exclusively featured Teyana Taylor, making the gym look better than if someone had literally smothered it with cheese fries.
In it, she's basically feeling herself in a Flashdance-inspired gym sequence, rubbing against a bench, dancing like literally everyone is watching because we've all turned into human-sized versions of the gawking eyes emoji, wearing an underboob-bearing top and the tiniest (though, also, most conveniently seamless?) thong of all time. And we can see how hard she went rolling over that gym equipment in her dance sequences, because, even though she's as oiled up as Tonga man from the Olympics, her upper thigh and butt bruises are proudly visible. She took Rihanna's advice and worked.
Although she's 25 now, old school MTV enthusiasts may remember Taylor from before her music career kicked off, because — prepare yourselves — she was on a 2007 episode of My Super Sweet 16. At the time, she had just signed to Pharrell's Star Trak records and MTV was on hand to document her over-the-top, West Harlem-set, hip hop-themed birthday extravaganza. Pharrell even made an appearance.
More recently, she hosted Season 8 of America's Best Dance Crew, and appeared in the 2007 Jay Z video for "Blue Magic." These days, though, she's a singer signed to West's label GOOD Music, where she's released a studio album and an EP. She even got to be a part of Lil Kim's VH1 Hip Hop Honors tribute.
And oh, did I mention? She joins the pantheon of powerful mombods on the VMAs tonight, alongside Beyoncé and Britney Spears. Taylor has a daughter named Iman Tayla Shumpert, Jr. with Cleveland Cavaliers player Iman Shumpert. He's the guy she cozies up to in the vid and that's their real baby!