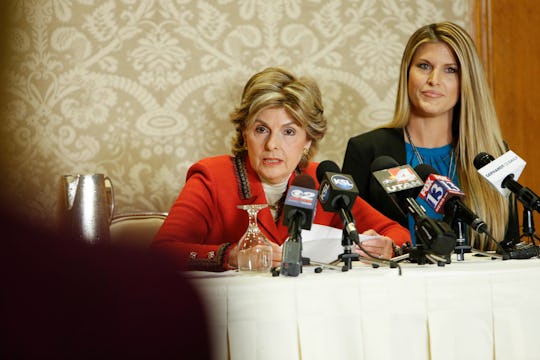 Chad Hurst/Getty Images Entertainment/Getty Images
Summer Zervos Has Spoken Out Before
Well, friends, it seems as though a war will be brought to President-elect Trump sooner than he expected. Gloria Allred, civil rights lawyer and all-around lady boss, has announced that a woman she represents is suing Donald Trump for defamation. Allred officially announced the lawsuit at a press conference in California today, along with the woman she is representing, Summer Zervos.
Thanks to a tape recording in which the president-elect reportedly admitted to "grabbing" women without their consent—you know, because he's a "star"—a total of 13 women have come forward with their own claims that Trump has allegedly acted upon that very thought. While #Pussygate wasn't enough to stop Mr. Trump from being elected as the 45th president of United States, it did give many accusers the strength and confidence to come forward with their claims.
Today, Summer Zervos came forward with Allred to further explain the lawsuit against Trump, calling it a "defamation lawsuit." At the press conference held today in California, Allred read descriptions from the suit filings, describing Zervos as being the victim of alleged "unwanted sexual touching," by Trump.
While the idea of suing Trump isn't really a new one, historically speaking, lawsuits have proven to be complicated manners for presidents, whether or not the actions brought up occurred before or after the president's swearing in. And Trump wouldn't be the first president to be sued while in office, with Obama, Clinton, Nixon, and even Ronald Reagan facing allegations of some sort during their tenure.
What's interesting here, though, is that Allred has announced the lawsuit three days before Trump is sworn in as president. These allegations could mean even more drama surrounding Trump's presidency, and could even lead to more lawsuits from other victims.
It's unclear what will happen with this new lawsuit, as the only lawsuit to ever lead to the end of a presidency was Nixon, and he resigned. And in some cases, lawsuits brought against the president are dismissed due to certain legal loopholes protecting him or her legally — although this week, quoting the Supreme Court case of Clinton v. Jones, in which Jones accused President Clinton of sexual misconduct, Allred said that "the court explained that the president is subject to the same laws that apply to all citizens."
Explaining why Zervos did not come forward sooner on Tuesday, Allred stated that the victim thought that her alleged assault was a one-time occurrence, and that on Oct. 7 2016, when a 2005 Access Hollywood tape leaked, reportedly showing Trump bragging to host Billy Bush about allegedly assaulting women, Zervos realized she may not have been the only one Trump had allegedly assaulted.
Since this is a defamation lawsuit, Zervos and Allred are asking that Mr. Trump retract his comments about Zarvos, in which he called her a "liar" and denied all her claims against him. Zervos stated that she wanted "Mr. Trump to know that I will still be willing to dismiss case with no monetary compensation," if he were to comply with their request of the retraction.
According to Allred, Zervos underwent a polygraph test to verify her initial claims of sexual misconduct against Trump, which she passed, and the test administrator claimed she was telling the truth. Of course, Facebook commenters were quick to forget those things, leaving blistering and sexist takedowns on most livestreams of the press conference:
The lawsuit was filed this morning in the State of New York, and as of yet, Mr. Trump has not publicly responded to the news.
Romper has reached out to the Trump transition team for comment on the lawsuit and it awaiting a response.
While the outcome of the case is unknown, as Allred says, "Enough is enough. truth matters, women matter, and those who allege that they were victims of sexual misconduct or sexual assault by Mr. Trump matter."