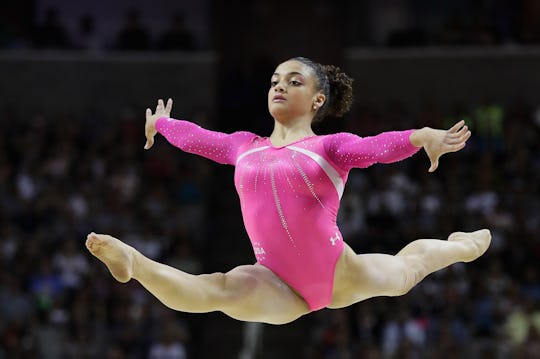 Ezra Shaw/Getty Images Sport/Getty Images
Who Is The Youngest Olympic Gymnast? At 16, She Managed To Really Impress The Judges
Last week, the 2016 U.S. Olympic gymnastics team was selected after a two-day competition in San Jose, California. And while the five members make up this years team, many are wondering about Team U.S.A's youngest member. So who is the youngest Olympic gymnast, and what will she be bring to Rio next month?
Laurie Hernandez grew up with one dream: to be a world-class gymnast and Olympian. And now — at just 16-years old — Hernandez is about to make that dream come true alongside Simone Biles, Gabby Douglas, Aly Raisman, and Madison Kocain. But it seems Hernandez still cannot believe she is headed to the summer games. In fact, according to Team USA, during a post-trials press conference with Hernandez and her long-time coach, Maggie Haney, Hernandez admitted that when she learned she was selected for the team, she was shocked:
I was, 'OH MY GOSH!'… it's actually happening!
And while the initial shock may have worn off, Haney said she is working hard to keep Hernandez focused:
That's all I have done this week, trying to keep her in the dark with everything going on. The less she knows, the better. We're really excited to be here, and we've not talked about goals at all. We definitely have a job to do.
Haney added:
Having reached the Olympics is a huge goal. The rest is icing on the cake. We want to enjoy the moment.
Hernandez has been practicing gymnastics since she was 5-years-old, and she has been working with Haney for the last 11 years, at Monmouth Gymnastics in her home state of New Jersey. According to ABC News, Hernandez is the first Puerto Rican woman to make the U.S. gymnastics team, and it was her second place finish at trials (all-around) and her first place win on the balance beam that secured her spot.
However, according to Haney, she and Hernandez do not plan to alter her routines for Rio. Instead, they will be using the practice time to do just that, practice and fine-tune:
We're both excited to go. The U.S. has set up an amazing [training camp] system. Now being on the different side of it, we get to be quiet and segregated off in a random place in Texas — it's nice to get away from everything, get back in the gym.
Haney added that while all of this "is good madness...we're [Hernandez and I are really] looking forward to having some quiet time" to focus.