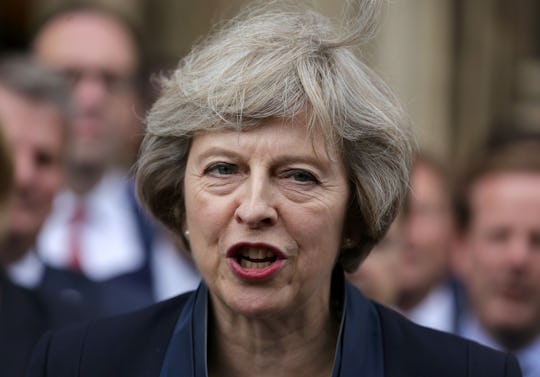 DANIEL LEAL-OLIVAS/AFP/Getty Images
Who Is Theresa May? The New UK Prime Minister Has Broken Barriers For Women
Ever since the Brexit vote, the political situation in Great Britain has been all over the place. As public figures resigned right and left, shellshocked citizens wondered who would lead the country through what is sure to be its most tumultuous period in decades. On Monday, the country finally got a bit of clarity, with the announcement that the presumptive new prime minister is Theresa May, who had long been considered a possible future leader for the Conservative Party.
May's quick ascendence came as a surprise. The country had prepared for a nine-week leadership campaign between her and Andrea Leadsom, the energy and climate change minister. But Leadsom unexpectedly pulled out after generating controversy over remarks implying that she would be a better leader because, unlike May, she was a mother. With no rival for the position, May was elevated automatically, and current prime minister David Cameron announced that he would step down earlier than anticipated, meaning that May is set to begin her new duties within the week.
May has had plenty of experience in government. She was first elected to Parliament in 1997, and has served as Home Secretary since 2010, making her one of the longest-serving in that office in Britain's history. The Home Secretary focuses on internal affairs, immigration and citizenship, and policing. She has broken barriers for women in politics, like becoming the first female chairman of the Conservative Party, while still being defined, in the media, by her taste in shoes. (Apparently it is very exciting that she sometimes wears leopard-print heels.)
During the lead-up to the referendum that caused all this chaos, May backed remaining in the European Union. However, since the country voted to leave, May has vowed to honor that decision, and not to hold a second referendum, promising to make the Brexit a "success."
In a 2014 profile in The Guardian, reporter Elizabeth Day painted a picture of May as perhaps not the most exciting politician, but a reliable one, saying:
In an era when politics has been tarnished by decades of scandal and spin, May seems to represent a more decent, less personality-focused approach. She comes across as straightforward, shrewd and reassuringly staid... A comparison is drawn with the German chancellor, Angela Merkel. Merkel, like May, is seen as a safe pair of hands: stolid, reliable but also clear-sighted enough to make difficult choices.
Someone straightforward and reliable seems like a good person to lead the country in this time of upheaval, but not everyone is thrilled with the choice. Many take particular issue with the fact that May wasn't elevated by a general election, with others comparing her ascendency to a "coronation." Opposition parties want a general election earlier than 2020, when the next one is scheduled.
At least as of now, though, it seems that May will be in power for a while. And only time will tell if she'll be as effective as Angela Merkel, or if she may go the way of David Cameron instead.