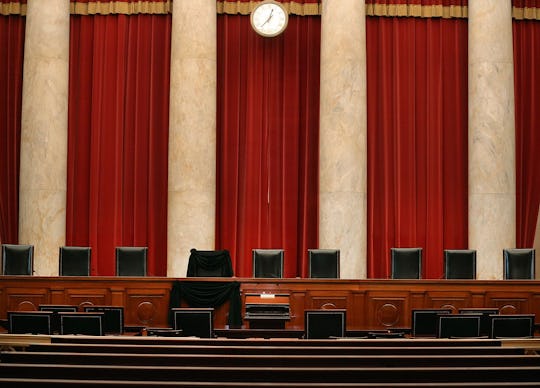 Mark Wilson/Getty Images News/Getty Images
About Potential SCOTUS Pick Thomas Hardiman
While the fight for refugees to be allowed entry into the United States wages on, another important decision is in the works in D.C. President Donald Trump is preparing to announce his choice to fill the vacant seat in the Supreme Court, left empty when Justice Antonin Scalia died early in 2016. While President Barack Obama nominated his choice back in 2016, Congress purposefully refused to give his choice a fair hearing, making way for Trump's pick to have a clear path to the Supreme Court. And with the announcement reportedly coming in the next week, Trump has narrowed his decision down to a choice few, one of the top picks being Thomas Hardiman. So, just who is Thomas Hardiman? Trump's potential Supreme Court pick isn't as controversial as you might think.
While Hardiman's leanings tend to be more conservative, he's also very experienced. And unlike a lot of Trump's Cabinet nominees, he hasn't been caught in the middle of a huge scandal of any sort (yet). Even though it's been noted that Hardiman isn't Ivy-League educated, his experience almost outweighs that matter. Hardiman was only 37 years old when he became a federal judge, and has weighed in on some pretty important court cases during his career.
Hardiman has definitely been pretty divided over issues during his tenure as a judge. In the past he has supported the idea of strip-searching prisoners, while also stating that all prisoners could take their civil rights grievances directly to the federal court.
However, one of the most prominent cases over which Hardiman presided, and one with which Democrats have taken the most issue, is one involving gun rights: In 2013, Hardiman upheld Second Amendment rights for citizens, regardless of what the defined need for their weapon happened to be.
Although Hardiman allegedly has ties to both the Republican and Democrat parties, his nomination and subsequent confirmation will still likely be something of an issue for Democrats. While Hardiman has stood up for the rights of prisoners, he has also stated that the right to record or tape police officers was unconstitutional — this, along with the fact that Hardiman has been praised by both the Federalist Society and Heritage Foundation, both conservative leaning organizations.
While Trump hasn't officially announced his choice, Hardiman is speculated by many to be the president's first pick, a fact that has many worried — perhaps with good reason.