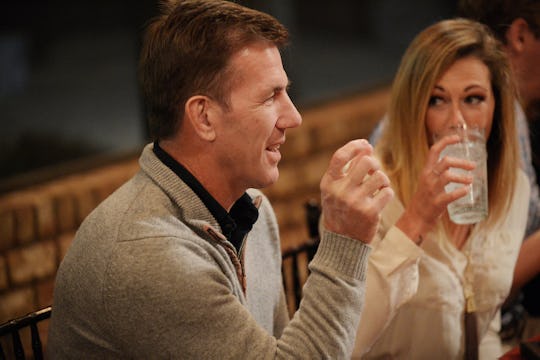 Jeff Gentner/Bravo
Thomas Ravenel's Girlfriend Will Be Making Waves On 'Southern Charm'
For the first few seasons of Bravo's Southern Charm, it was hardly possible to go an entire episode without some sort of drama between Thomas Ravenel and Kathryn Dennis. The couple's explosive on-again, off-again romance was reality TV gold, eventually leading to some excellent viewing, two children, and a custody battle. Now in Season 5, Thomas has moved on with another woman, already causing friction. So who is Thomas' girlfriend, Ashley, on Southern Charm? His new love may be perfect for him, but she's about to get in the middle of some major Southern Charm drama.
Thomas' girlfriend, named Ashley Jacobs, made an appearance in the first episode of Season 5. She seems to get along with Thomas and Kathryn's kids, Kensington and Saint Julien (of whom Thomas has full custody), but it doesn't look like she's been fully inducted into the slightly weird and heavy drinking Southern Charm circle quite yet. That doesn't mean that she won't be making waves, however. In the show, Thomas described their first meeting in California, where he was at a bar and met a "beautiful nurse." According to him, Ashley gave him a "come hither" motion with her index finger and so Thomas made a beeline for her and the two have been together ever since.
Editor's Note: The Instagram post has since been deleted.
Ashley decided to move from California to Charleston to be with Thomas just a few months into their relationship which is why we, the dedicated viewers of this show, now get to see the romance in all its glory — and Kathryn's reaction. Previews for the show prove that Kathryn and Ashley get along about as well as any fan of the show could have predicted. That is, not at all. Clips of the upcoming season include at least two show-downs between the two women.
In one, they trade some pretty nasty barbs while Thomas looks on a little helplessly. Kathryn scoffs that Ashley "will be gone in a week," and remarks, "I want you to know, you've crossed the line. And as a mother, f*ck you." In response, Ashley says that Kathryn and Thomas and their kids are not a family but Kathryn is a "baby momma" and "nothing but an egg donor." In the preview it looks like Kathryn's friends will be backing her up with regards to Ashley, as seen through various shouts across the lounge area of a boat. Side note: shouldn't reality stars know better than to go for boat rides like this at this point?
But it looks like Ashley hasn't made enemies of all the cast. She actually appears to be pretty close with Landon Clements, at least according to her Instagram page and Landon's own comments. Sure, Landon isn't part of the cast anymore and can't be there to back Ashley up during the various arguments, but maybe Landon can give her some insight on how to deal with the other members of the cast. In an interview with People, Landon said, "[Thomas's] girlfriend Ashley is a sweetheart, and we've become really good friends, and she's moved to Charleston and is getting her nursing license to switch over."
As far as Ashley's personality goes, viewers of Southern Charm are just going to have to wait and see what she's really like. Personally, I can't help but root for Kathryn after watching her struggle to better herself for four seasons (even if her accusations and actions are occasionally baffling). But you will have to make up your own mind about this latest addition to the group as the season progresses.
Check out Romper's new video series, Romper's Doula Diaries:
Watch full episodes of Romper's Doula Diaries on Facebook Watch.