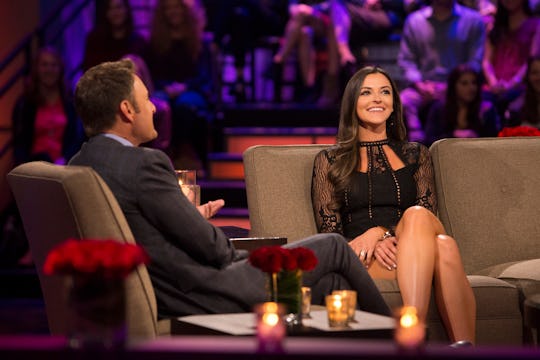 Paul Hebert/ABC
Everything We Know About Tia's Love Life After 'The Bachelor'
It's strange to think of Bachelor contestants going back to their normal lives after the show wraps up, but in most cases this is exactly what they do. This leads many to wonder what a certain Arkansas native is up to these days, and whether her heart is on the mend. You may be wondering right now, 'Who is Tia dating after The Bachelor?' After getting her heart broken on national television, everyone just wants the best for her. She clearly wants to find love, so I hope she's found it, though there's no evidence of that right now.
Being friends with former Bachelor favorite Raven Gates before the show, Tia already had a leg-up in the popularity department. And luckily the world seemed to fall more in love with her over the following weeks, from her constant cursing to her huge owl tattoos to her down-to-earth humor. The world just wanted the best for Tia. She was even the first one of the women to admit that she was falling in love with Arie on their one-on-one date in the swamp of all places. Sadly, her love affair was not to last and she was sent home after the hometown dates, though she clearly wasn't expecting it.
These days, Tia has given every appearance of simply moving on with her life without bitterness. (I knew there was a reason we loved her). Her social media doesn't give any indication that she's dating anybody new, but she does appear to be doing pretty well. A recent post shows a picture of a page out of the book Light Is the New Black by Rebecca Campbell entitled "You are not for everyone." Tia captioned the post, "I'm learning to focus my energy on those who know (or take the time to know) my true character...as a professional, a friend, and just a human being in general. You are not for everyone and that's OK." This definitely implies that she's single at the moment.
But perhaps that's a good thing, since her fans are extremely eager to crown her as the next Bachelorette. To be honest, I think she'd be a great fit as the show's lead. She's a little offbeat but not too far offbeat. She's outspoken. She's likable. And she just so happens to be absolutely gorgeous. And luckily for everyone who wants to see her as the official lead of the show, it looks like she is totally down for the experience, and has not sworn off The Bachelor forever.
In an interview with Entertainment Tonight, Tia said, "I think it would be an amazing experience getting to be the Bachelorette and to get to meet some amazing men." She continued, "I know it would be tough, but I would kinda be in control and in charge." So uh, where do we start campaigning to make Tia the next lead?
Luckily, even if Tia doesn't get top billing next time around, in the same interview she also said that she was willing to give Bachelor in Paradise a try. After all, look at how well it worked out for her friend Raven, who is still dating Adam Gottschalk almost a year after the two of them met on the show. Tia said, "I would love to be in Paradise. I would love to continue on this Bachelor journey." And clearly the entire world would love to watch her continue on this Bachelor journey.
But even if it doesn't happen for her on TV where I can see it, I hardly think that Tia's going to stay single for very long. Girlfriend is a total catch.
Check out Romper's new video series, Romper's Doula Diaries:
Watch full episodes of Romper's Doula Diaries on Facebook Watch.