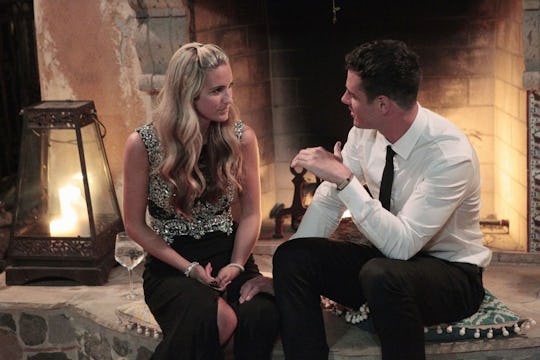 Rick Rowell/ABC
Who Is Tiara On 'Bachelor In Paradise'? She's The One That Loved Chickens
There are some contestants from past seasons of The Bachelor and The Bachelorette that you just know will have to make an appearance on Bachelor in Paradise: either they're the perfect train wreck or they're perfectly adorable and deserve another shot. However, other past contestants who show up in paradise only leave you with the faintest stirring of...who? BiP has already seen a few questionably memorable suitors show up (one of whom even Chris Harrison couldn't place), and there are sure to be more as the show continues to stir things up. For example, who is Tiara on Bachelor in Paradise?
Tiara was one of the women from Ben Higgins' season. She was eliminated very early on in Week 1, so she didn't have a ton of time in which to make an impression. However, the thing about her that stood out the most was her stated profession: Tiara was a chicken enthusiast. Not a vet, not a farmer: a chicken enthusiast. In her bio for the show, she even referred to them as her guilty pleasure. "If I see chickens anywhere," she wrote, "I want to stop and hold them."
The chicken love didn't stop there; her introductory video showed her brushing her teeth with a chicken on her shoulder, burying her face lovingly in chicken feathers, and referring to them as her babies. But surely there's more to Tiara than chicken? I mean, hopefully?
While there are more things to be learned about Tiara, her social media seems to indicate that chickens are still number one in her heart. However, she doesn't limit her love for animals there; in addition to her beloved chickens, Tiara seems to adore horses and is something of an equestrian. She even has her own horse named Buffalo.
As for Tiara's real job, it's hard to say. Her LinkedIn is fairly incomplete, but according to that Tiara is a dental assistant. However, there are no dates provided that indicate how long she was at that job or if it's anything she's still pursuing. Her social media bio sections are similarly unforthcoming. All we really know about Tiara for sure is that she's from Redmond, WA, she super loves chicken, and she looks like what would happen if CeCe Drake from Pretty Little Liars melded with Blake Lively.
Bachelor in Paradise could be a chance for Tiara to reveal a little bit more about herself. Or at least maybe she can finally explain whether or not chicken enthusiast is a paying gig.