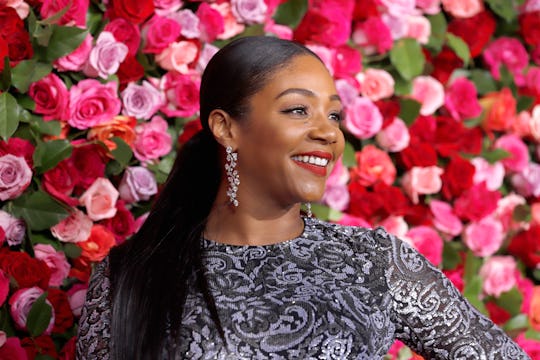 Jemal Countess/Getty Images Entertainment/Getty Images
Who Is Tiffany Haddish Dating? The MTV Movie & TV Awards Host Isn't Shy About Her Love Life
Tiffany Haddish quite possibly may be one of the funniest women alive at the moment. The actress and comedian isn't afraid to say what she thinks about anything. And watching her performance at the MTV Movie & TV Awards on Monday night, surely she'll gain a few more admirers. Those same people might be wondering who Tiffany Haddish is dating, especially since talking about her celeb crushes is one of those topics she's been candid about.
Haddish might be open about the time she hit on Leonardo Dicaprio or feel free to talk about an actress biting Beyoncé, she is a little more reserved when it comes to talking about her relationships. During an interview with Extra this past March, Haddish revealed that she is single and is "going to make some time" for dating. It's clear that Haddish loves being single. In a new interview with The Hollywood Reporter, Haddish told the magazine that she had once hit on DiCaprio a few months ago and asked him if he'd "let" her "hit that," (he laughed in reply) and that she once "almost went on a date with Drake."
And from the sounds of it, Haddish is more than happy with her relationship status, especially since she has been married before to the same person, twice, according to Biography, with her last divorce finalized in 2013, according to Pop Buzz.
Haddish loves talking about her dating life, and you can't blame her — it sounds more exciting than most things on Netflix. During an interview at the Oscars this past February, according to W, Haddish revealed to Kelly Ripa that she had made a pretty interesting proposition to Brad Pitt. "He said in one year, if I'm single and he's single, we gonna do it, so you know what that means...," Haddish said, according to W. While it's unlikely that Haddish will wait an entire year for Pitt to come around, this quote indicates that Haddish could be single and looking.
But don't get your hopes up for next year. During an appearance on The Tonight Show with Jimmy Fallon in April, Haddish revealed that Pitt isn't necessarily her type. Haddish said, according to Elle:
I did some research and he got a gang of kids. I can't do it. I want to be baby mama number one. But that doesn't mean I wouldn't eat dinner with him and play around, but I want to be number one.
Being "number one" isn't Haddish's only specification when it comes to dating. During an interview at the 2018 Academy Awards, Haddish was adamant with Extra host Mario Lopez that she doesn't want to date someone who has kids. "I like all kinds of dudes — I don't discriminate," Haddish said. "But mostly, guys that don't have kids! I don't want to deal with the baby mama drama."
Haddish also revealed in a dating advice video for GQ that she loves it "when a man is prepared," according to HuffPost. "There is nothing like a man having all the essentials and necessities that you might need," Haddish explained. "If my cycle started and a man had a Maxi Pad in his pocket, I would question it, but I would use that Maxi Pad." In the same video, Haddish also revealed that she is OK with men asking her out off the street — is anyone else taking notes?
But don't expect Haddish to settle down any time soon. In an interview with GQ in March, Haddish revealed that starting a family isn't necessarily something that she wants to do in the future. "I never said I wanted to have a bunch of babies and a husband," Haddish told GQ. And in an interview on the radio show, The Breakfast Club, according to Essence, Haddish revealed that she wasn't going to let anyone hold her back from her dreams and reaching her goals. "I was not going to allow my dreams to be shut down," Haddish said, according to Essence. "I was not going to allow no man I have to shut down this dream I have because it keeps coming to me."
Rest assured that Haddish is still chasing those dreams and seems more than happy with her single self.