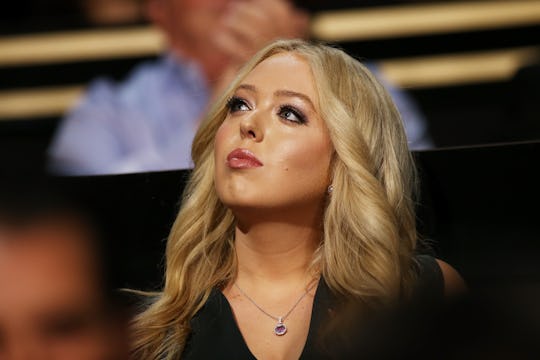 John Moore/Getty Images News/Getty Images
Who Is Tiffany Trump? Trump's Youngest Daughter Will Speak At The RNC
On Tuesday, Tiffany Trump is slated to address the Republican National Convention, and if things go according to plan, her speech will be given right after New Jersey Gov. Chris Christie's. However, while it is obvious Tiffany is a member of the Trump family — hence the shared last name — many are wondering who is Tiffany Trump as a person, why have we not heard much from her before, and what they heck will she be saying?
Tiffany Trump is the youngest daughter of Donald Trump, and Donald's only child with ex-wife Marla Maples. (Donald Trump Jr., Ivanka, and Eric are from The Donald's first marriage — to Ivana — and Barron, the presumptive presidential nominee's youngest child, is from his third and current marriage to Melania.) Unlike her siblings, Tiffany was the only one not raised in New York. In fact, according to ABC News, Tiffany spent the majority of her childhood in Los Angeles with her mother. And while Tiffany did have a brief singing career — in 2011 she released her first, and only, single "Like a Bird" on Amazon music — 22-year-old Tiffany Trump spent the last several years studying at the University of Pennsylvania, and in she graduated with a double major in sociology and urban studies, according to ABC News.
And while Tiffany has only done a few public interviews to date (probably due to her age and recent collegiate endeavors), and all were alongside other members of her family, during a Trump family "town hall" on CNN, Tiffany used her voice to defend her father against charges of sexism, according to the The Atlanta Journal Constitution:
Since I've been a little girl he's always just inspired me and had so much faith in me to just be the best person I can be, the best woman I can be. And, you know, every time I speak to him on the phone, whether it be at school or when I'm with him in his office, or, you know, in Palm Beach, it's just — he wants us to do the best and he has the utmost faith that we can accomplish whatever we set our minds to just as well as men, if not better.
However, whether Tiffany will talk about these allegations at the RNC remains unclear. People will definitely expect her to address her father's sexism and racism though and to not make a speech filled with fluff (though that's likely what will happen).