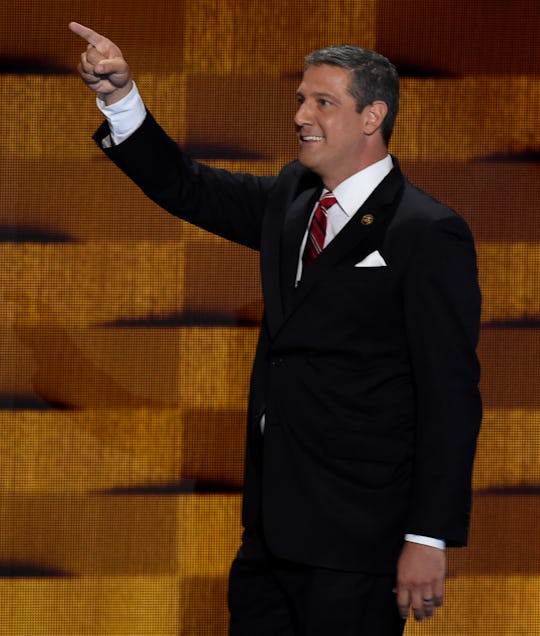 SAUL LOEB/AFP/Getty Images
Who Is Tim Ryan? The Democratic Representative Wants Nancy Pelosi's Job
The suffering Democratic party is in need of some sort of change, and an Ohio representative thinks he's up for the task. Challenging House Minority Leader Nancy Pelosi, Tim Ryan this week wrote: "Vote for me and I will dedicate all of my energy to lead us back into the majority. Our constituents deserve nothing less." The representative's letter to lawmakers invites a change to the position that Pelosi has held since 2010. But who is Tim Ryan? He's been in Congress for 14 years and has now committed himself to Democrats "getting the majority back."
In announcing his bid, Ryan discussed the Democratic party's precarious position at this juncture:
Under our current leadership, Democrats have been reduced to our smallest congressional minority since 1929. This should indicate to all of us that keeping our leadership team completely unchanged will simply lead to more disappointment in future elections.
The 43-year-old father represents a Congressional district which, Vox observes, "includes large numbers of African Americans and working-class white voters." Socially moderate, Ryan could be a welcome change of pace. A member of the House Appropriations Committee, House Budget Committee, and a co-chair of the Congressional Manufacturing Caucus, Ryan is heavily involved. His website paints him as "a champion of efforts to make college more affordable, revitalize America's cities and improve the health and well-being of American families and children."
In deciding whether or not to seek the position, Ryan explained his uncertainty:
This has never been an aspiration of mine. I've been here 14 years. Never dreamed of running for leadership. But we got to do something. Donald Trump is the president of the United States. That means we really screwed up.
Acknowledging a need for the party to engage a wide range of voters, Ryan spoke of how his background might enable him to do so:
I do think someone that comes from an area of the country like mine, somebody that represents a district like mine [...] can connect with working-class people in the Great Lake states.
Ryan's lengthy political career has been replete with opportunities that he hasn't taken — gubernatorial and senatorial races among them. This presidential election, though, seems to have given him the jolt he needed to seek out a higher office. It won't come easy, however. "Without having asked for their vote yet," Pelosi feels confident she'll secure at least two-thirds of the Democratic members' support.
"I personally don't believe that we can win the House back with the current leadership. I just don't think so," Ryan admitted. "I hate to say it, I love Nancy Pelosi, but I just don't think we can do it." Ryan's commitment might be just what the party needs to get back on track and gain a potential majority. If accepted by the party, his comparably moderate views could ring true with voters who, for myriad reasons, might feel excluded by the party at present.