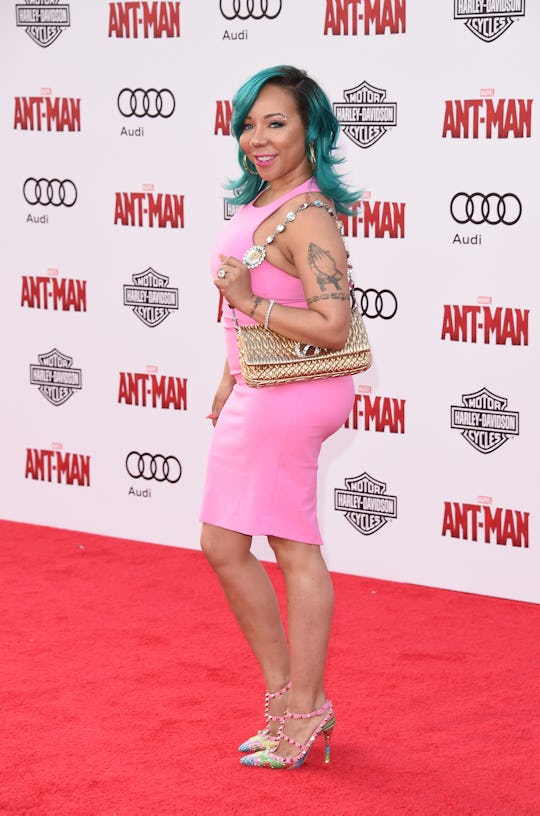 Jason Merritt/Getty Images Entertainment/Getty Images
Who Is T.I.'s Wife? Tameka Harris Is An R&B Star & Mother
Rapper T.I. and wife Tameka "Tiny" Harris, welcomed a baby girl on March 26, who, for now, the couple is just calling "Lucky" because the little girl is T.I.'s seventh child. You can track the baby on social media by the infant's hashtag, #Lucky7. But there's a lot more to this little lady, called "Tiny" because of her four-foot-eleven-inch frame, than riding right seat with one of the biggest names in entertainment. Who is T.I.'s wife? Tameka Harris is, in her own words on her Twitter profile, @TinyMajorMama, a mother, wife, and bo$$. Gotta love that.
Before Harris was Mrs. T.I. and starred in reality TV shows with her family on shows including T.I. and Tiny: The Family Hustle, she was a member of the R&B group Xscape. She even won a Grammy Award for writing the TLC mega-hit "No Scrubs" (Yes, that "I don't want no scrub," "No Scrubs") along with former band mate and fellow reality TV star, Kandi Burress from The Real Housewives of Atlanta. The two talented ladies have been friends for years. In fact, Burress stopped by the hospital to check on Harris before she gave birth. The two shared the very mommy-themed Xscape mini-reunion.
Following the birth of "Lucky" baby number seven, Harris released this statement.
For now, Harris has her hands full at home with her new baby and the two boys she and T.I. had together, Major, 7, and Clifford, 11. T.I. has three children from previous relationships — Deyjah, Domani and Messiah — and Tameka has an adult daughter, Zonnique, from a previous relationship.
Harris isn't afraid to do things her own way. The 40-year-old new mama celebrated her recent pregnancy by posting this gorgeous image. She and T.I. previously lost a daughter, who was stillborn, which probably made this pregnancy even more bittersweet for Harris and an experience to really savor and enjoy.
Here's another pregnancy shot with proud papa T.I.
The famous family also celebrated Lucky's arrival with a very royal baby shower.
But even with a house full of little ones, you can bet Tiny is going to keep making waves of her own. Whether it's revelations like her recent eye surgery to change her eye color to gray or recording a suspected diss track that takes shots at T.I. (don't worry, they released love songs with the diss songs), Harris is a lady who does things her own way and she doesn't seem to care what anyone thinks about it. Her attitude is pretty refreshing considering all of the moms out there trying to convince you they're perfect even though we know how impossible that actually is. Harris is a mom showing people the ups and downs of her struggle, without apologies, and it's awesome.