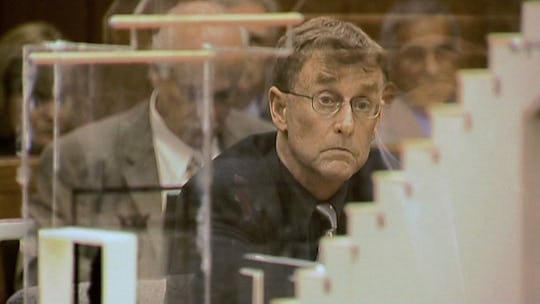 Netflix
Michael Peterson's Son Todd Supported Him After Kathleen Peterson's Death
Kathleen Peterson's death has been debated and contested since it happened in 2001. Some believe her passing was the result of an accidental fall down the stairs, while others suspect it was a violent attack — possibly at the hands of her husband, Michael. He was eventually convicted of her murder, which split loyalties amongst their children. If you're planning to tune into Netflix's reexamination of the case, The Staircase, then you might be curious about those children, like Michael Peterson's son, Todd Peterson. Did he support his father despite the outcome of the murder trial?
Michael had been married once before Kathleen, to an elementary school teacher named Patricia Sue Peterson. They had two sons, Clayton and Todd. It doesn't seem as though either man lives more of his life in the public eye than he absolutely has to, though Michael's arrest and conviction for Kathleen's murder has brought the entire family more publicity than they would have had otherwise. Still, Todd Peterson seems to live a quiet life, though he has appeared in documentaries about the case, including the 2004 version of The Staircase, its 2013 sequel The Staircase II: The Last Chance, and the WRAL Murder Trials series.
According to the Associated Press, both Todd and his brother Clayton supported their father throughout everything that unfolded after Kathleen's death.
During their marriage, Michael and Patricia lived in Germany for some time with their sons. That was where they befriended a couple named Elizabeth and George Ratliff. After both Ratliffs passed away (George in 1983 and Elizabeth in 1985), Michael became the legal guardian of their daughters, Martha and Margaret. Shortly after that, Michael and Patricia divorced. The circumstances of the girls' adoption would become significant during the Kathleen Peterson murder trial because Elizabeth Ratliff died in an incredibly similar way, according to CNN: she also seemed to die from an accidental fall down the stairs, though a second autopsy suggested that she was beaten to death. Michael was the last person to see both women, making him a suspect in both cases, though Elizabeth's alleged murder remains unsolved. (Romper reached out to Michael Peterson's representatives and Netflix for additional statements.)
Todd arrived at the Peterson house early in the morning after Kathleen's death, an experience he later shared in the 2004 documentary series The Staircase. Michael and Kathleen had been the only ones home that night; they had been drinking, and it seems as though that contributed to the family believing her death was truly an accident. In a book about the case by Diane Fanning called Written in Blood: A True Story of Murder and A Deadly 16-Year Old Secret That Tore a Family Apart, Todd is quoted as telling officers, "They both drink heavily. If you want my opinion, they were probably sh*t-faced and she fell."
In 2017, The News & Observer reported that Todd now lived in Tennessee, but did not provide any further information about what his life is like now. In 2004, the Petersons' family friend, Kerry Sutton, told WRAL that all of Michael's children were "getting on with their lives." She went on to say, "They don't let this hold them back, but won't, for a second, forget what's going on."
While Todd and his siblings expressed support for their father and a belief in his innocence, Todd has not spoken publicly about what happened very often. It's unclear whether or not he will make an appearance in Netflix's continuation of The Staircase, but it's always possible that archival footage or old interviews could feature Todd. Interested parties can find out for sure when it debuts on June 8, but it seems as though Michael Peterson's children have made their position pretty clear by now. They're on their father's side.