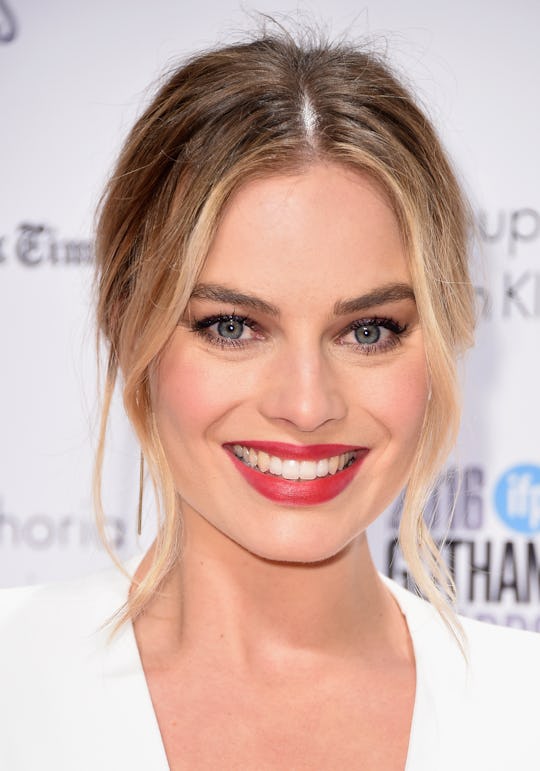 Michael Loccisano/Getty Images Entertainment/Getty Images
Who Is Tom Ackerley? Margot Robbie's Husband Also Works In The Film Industry
Sorry Margot Robbie fans, your girl crush is officially off the market! According to People, there is a report that there is one less fish in the sea. That's right, the Suicide Squad starlet has been secretly hitched to her boyfriend, Tom Ackerley, in Australia. Robbie has been keeping busy, and is soon to perform her solo role in Gotham City Sirens. With the public eye watching the star's every move, it's no wonder she would opt for a hidden ceremony with her mystery man. Everyone wants to know who Margot Robbie's lucky new hubby, Tom Ackerley, is, and I'm here to fill you in. (Romper reached out to Robbie's representatives regarding the reports.)
Tom Ackerley is a British film maker. According to IMDb, he is more specifically an Assistant Director, who has worked on films such as: Da Vinci's Demons, Pride, MI-5, and The Brothers Grimsby. The Telegraph reports that the couple met the set of the World War II film, Suite Francaise, which was shot in Belgium and France. The couple have been an item since 2013, and might have had a private engagement to match their secret wedding.
Although no pictures of the alleged ceremony have been found, an examination of their loved ones' Instagram posts are clues that their wedding ceremony took place in Byron Bay. On Sunday, Ackerley's brother, James, posted an image on Instagram. The location on the image was tagged as Harvest Newrybar, a popular wedding venue in Byron Bay. Coincidence? Maybe. To add more spark to the fire, People Magazine points out that Robbie wore a T-shirt with the words "Say 'I Do' Down Under" on it as she landed in Australia. I've seen Legally Blonde enough to rule the social media post and shirt as "evidentiary support."
Even though Margot Robbie is now possibly married, she wasn't originally looking for a relationship when she met her future husband. She opened up about her love life in the May issue of Vogue and said, "I was the ultimate single gal. The idea of relationships made me want to vomit. And then this crept up on me." The Wolf of Wall Street star then dished on catching feelings for the film director:
"'We were friends for so long. I was always in love with him, but I thought, 'Oh, he would never love me back. Don't make it weird, Margot. Don't be stupid and tell him that you like him,'" she continued, adding, "And then it happened, and I was like, 'Of course we're together. This makes so much sense, the way nothing has ever made sense before.'"
It's nice to see that even a movie star gets self-conscious and uneasy when it comes to guys just like the rest of us. The Focus actress looks smitten with her beau in a black-and-white Instagram photo she posted two weeks prior to the news. Her caption read "This guy" followed by a heart-eyed emoji.
Editor's Note: The Instagram post has since been deleted.
Aren't they just perfect? Congratulations to the two!