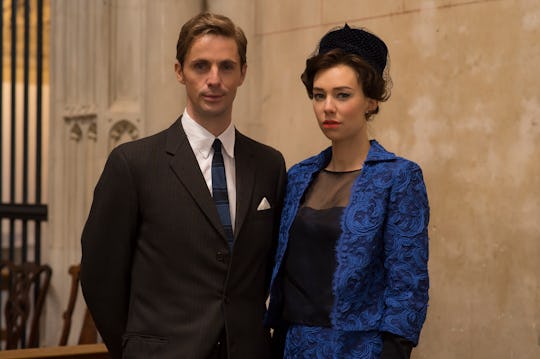 Alex Bailey/Netflix
Princess Margaret Gets A New Love Interest In 'The Crown' Season 2
The second season of Netflix's The Crown hits Netflix on Dec. 8, and with it comes all kinds of changes. That includes the introduction of Matthew Goode as Tony Armstrong-Jones, a man who has a profound effect on Princess Margaret. But who is he? Finding out who Tony Armstrong-Jones is on The Crown isn't too difficult, because he's based on a real person. But you don't have to watch the whole season to get a hint of what's to come on the show; you can just look to history for the answers.
The trailer for Season 2 of The Crown teased what Goode's role will be, providing some clues for those who might be less familiar with the real story. The trailer shows the young Queen Elizabeth desperately trying to conform to what's expected of her and keep things running smoothly, knowing that any emerging scandal could be incredibly detrimental to the royal family. Of course that means it's the perfect time for a debonair stranger to enter and shake things up with scandals aplenty. Tony Armstrong-Jones is a photographer who strikes up a relationship with Margaret, and he's pretty much the opposite of the kind of man who would be appropriate for a princess. Margaret won't have an easy time ahead of her.
And that was the case in real life, too. Tony became Margaret's husband, but the union was the definition of rocky.
The real life Tony Armstrong-Jones was a photographer, much like his fictional counterpart. His started taking pictures while still attending school at Eton and Cambridge, but his career didn't begin to take off until afterwards. His photographs appeared in publications like Tatler, Picture Post, and The Sketch but as his career grew, his work showed up in more prestigious magazines like Vogue and Vanity Fair. He came into contact with the royal family when he was hired to photograph Queen Elizabeth, Prince Philip, and their children. The pictures got a lot of attention from the public because they weren't what people expected of the royal family; they were much less formal.
Then Armstrong-Jones met Princess Margaret at a dinner, and went on to take her picture, too. They reportedly had a lot in common, though their shared qualities were also their most explosive. They had rebellious streaks and big egos, and their relationship progressed quickly even though Margaret was still recovering from her broken engagement with Group Captain Peter Townsend. She and Armstrong-Jones went on to have an expensive televised wedding, after which he was appointed Earl of Snowden. But despite how exciting it might have looked from the outside, their marriage started to crumble early on.
The Crown series creator Peter Morgan explained to Vanity Fair that while Armstrong-Jones had "excessive charisma," he also showed "excessive random cruelty" to those around him and could be "very libidinous." Morgan described him as "an interesting character because he had polio as a child. When you've had polio as a child and when you've been slightly rejected by your mother for being the defective child... It's very conspicuous, the compensation that he made by marrying the second most high-ranking social woman in the country. It's like, 'Notice me, mummy.'"
Armstrong-Jones and Margaret had two children together, but divorced after 18 years of marriage. It was said that he was unfaithful to Margaret and may have had a child with another woman shortly after their wedding. Margaret and Armstrong-Jones' relationship became increasingly toxic over the years until they finally divorced. He went on the remarry and divorce again, to Lucy Mary Lindsay-Hogg, with whom he had another child. He passed away in January of this year, at the age of 86.
It seems like Princess Margaret will be embarking on one of the most important, but most painful, relationships of her life in Season 2.
Check out Romper's new video series, Romper's Doula Diaries:
Watch full episodes of Romper's Doula Diaries on Facebook Watch.