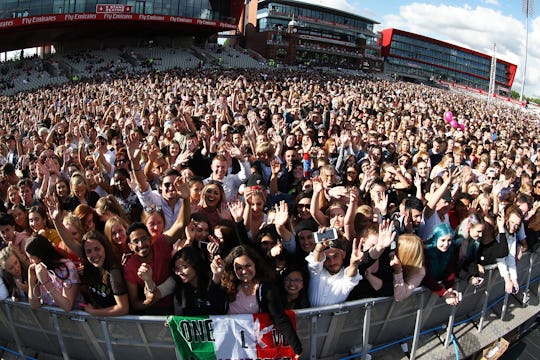 Getty Images/Getty Images Entertainment/Getty Images
Tony Walsh's Poem At One Love Manchester Was Beautiful
As you're (unfortunately) already aware, the terrorist attack in Manchester two weeks ago at an Ariana Grande concert was, in short, a senseless tragedy, killing some 22 people and injuring many more. And in times of great loss, humans have the unique ability to come together, and create beauty from the chaos. So, with the One Love Manchester concert underway this week, many were wondering: Who is Tony Walsh? His Manchester poem — which he was scheduled to read once more at the concert on Sunday, but didn't in the end — has gone viral, and for the best reason.
Following the terrible attack at the Manchester arena, Walsh read a new poem at the vigil honoring the victims that soon garnered international attention for the way it so perfectly encompassed all that Manchester represents. Titled, "This is the Place," Walsh's piece speaks to the spirit of resilience of the city of Manchester, and, given everything that's been happening of late (specifically another attack in London over the weekend) is honestly just what the world needs right now. And even though he wasn't able to recite it at the One Love Manchester concert on Sunday, the inspiration behind his words was still definitely present.
Walsh has been a full-time poet for over six years now, and appropriately goes by the name "Longfella" for his statuesque physique (he's 6 feet, 5 inches tall), and as a semi-tribute to the famous poet, Henry Wordsworth Longfellow.
Performing at the tribute concert to benefit the victims of the May 22 terrorist attack, Walsh took to the stage to share his spoken word brilliance with the crowd. And truly, his poem is one for the ages. "Manchester!" he begins, "this is the place in the North West of England."
"This is the place that has helped shape the world," he continues, speaking of the suffragist movement, inventions such as computers, and other appliances, and the other ways that Manchester has contributed to the world.
While Walsh has been writing poetry for years now, there's no denying the fact that his heartfelt, raw, and beautiful tribute to the Manchester victims launched him into a bigger, broader spotlight.
So today, while A-list celebrities and singers take up most of the spotlight this weekend, remember that Walsh has his own merit as well, though it may not be as glittery and glamorous as the other performers. Words have power, and Walsh is an excellent reminder of that.
The One Love Manchester concert event is sending a message: That hate cannot and will not win. That the world is stronger, together. And, as Walsh says, "Always remember. Never forget. Forever Manchester. Choose love."