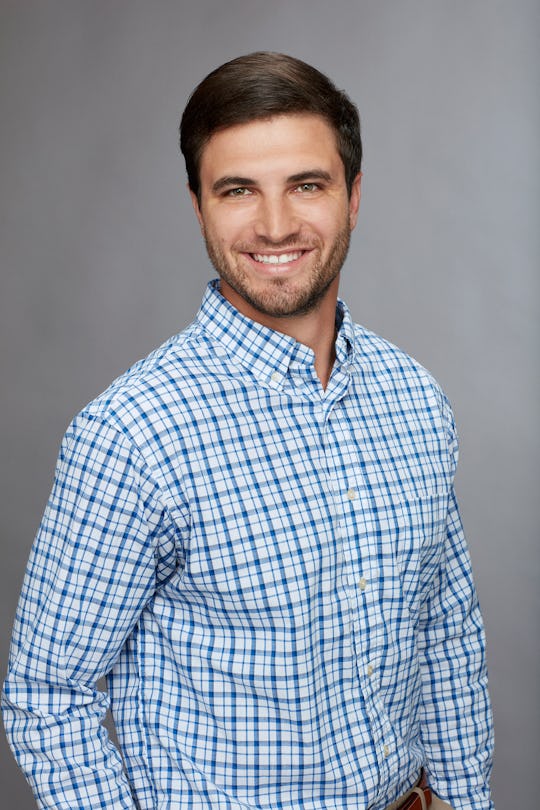 Craig Sjodin/ABC
Trent From 'The Bachelorette' Is Also A Romance Novel Model
This season of The Bachelorette is set to be one of the most anticipated seasons ever. Fan favorite, Becca Kufrin, is embarking on a new journey to find her soulmate, and after the heartache she had to deal with on the last season of The Bachelor, she's got the whole world rooting for her. She's getting to meet 28 eligible bachelors, and there's one in particular people are curious to know more about. So who is Trent on The Bachelorette? Apparently, there's much more to him than meets the eye.
In his ABC cast bio, Trent, last name Jespersen, is described as a realtor from Naples, Florida, who loves animals and moved from the midwest to pursue a career in real estate and modeling. The profile goes on to say that he has "been on the cover of romance novels and has done catalog work," but let me tell you, "catalog work" doesn't do his modeling career justice.
After scouring the internet and Trent's own Instagram page, along with appearing in print ads for catalogs, Trent has a whole array of sexy underwear shoots under his belt. The 28-year-old is represented by Posche Models, and a quick Google image search of his name brings up a ton of steamy stills. Plus, according to his Instagram, he's the hottie on the cover of the romance novel, Texas Destiny by Lorraine Heath.
So he's a sexy male model by day, but he's also a sexy realtor, too. His Linkedin page lists him as a Licensed Real Estate Agent currently working as an Internet Sales Consultant with the Pulte Group. But when coasting through his Instagram photos, it looks like Trent is more interested in modeling than his real estate career.
One thing he has in common with Becca is that he hails from the Midwest. Trent is originally from Carrol, Iowa and Becca is from neighboring Minnesota, so one thing they can definitely connect on is their sweet midwestern charm. After seeing Becca have her heartbroken by Arie Luyendyk Jr. on The Bachelor, when he broke off their engagement to propose to the other finalist, Lauren B., all of her fans hope that she finds a good guy that will make her happy, but most of all, appreciate her.
Luckily, as she confirmed to People last week, Becca found love on this season of The Bachelorette, and is now officially engaged. In the interview with the magazine, Becca described her past breakup with Arie as a "grieving process", but said that she agreed to do The Bachelorette because she wanted to continue to search for her life partner. Becca mentioned that her engagement was the "happiest moment" of her life, and that she is super excited for fans to watch this season and see how the whole thing unfolded.
If you're wondering who the lucky guy is, you'll probably have to wait until the final rose ceremony to find out. The Bachelor and Bachelorette casts and crew observe fort-like secrecy when it comes to news about eliminations and selections, and I guess it makes sense for them to build a sense of mystery and suspense to keep viewers hooked. You'll just have to tune in to the show and take your best guesses at who you think she will ultimately choose. After seeing the line-up of handsome hunks, I'm sure that her fiancè is going to be a major hottie.
So, it's time to get your popcorn, wine, and viewing parties ready, because all the excitement is set to kick off with The Bachelorette two-hour series premiere, airing on Monday, May 28 at 8 p.m. EST on ABC.