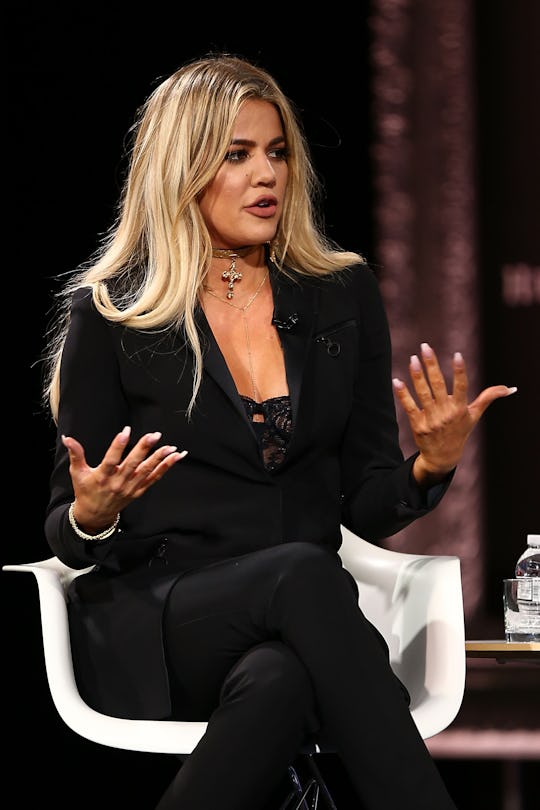 Joe Scarnici/Getty Images Entertainment/Getty Images
True's Legal Guardian Is Revealed On 'Keeping Up With The Kardashians'
If you haven't been keeping up with the Kardashians and Jenners, you may not be aware that there has been some drama between a few of the sisters on the latest season of the reality TV show. And while one recently released clip of a discussion between a few of the Kardashian sisters didn't directly deal with that drama, hints of tension between the women still lingered. The conversation dealt with who would be True Thompson's legal guardian, if something were to happen to her parents, and Khloé Kardashian, her mom, announced which of her sisters she'd chosen for the honor. So, who is True's legal guardian? The answer probably won't surprise anyone who's been paying attention as all the drama unfolded on this recent season of Keeping Up With the Kardashians.
On the latest season of KUWTK, some of the Kardashian sisters have been fighting. Some of the initial drama stemmed from Kim Kardashian West and Kourtney Kardashian arguing because they couldn't sync up their schedules for the family's annual Christmas card photoshoot. That particular blowout ended with Kim saying Kourtney is the "least exciting" sister of the family to look at. Ouch. See for yourself in the clip below.
Ever since then, the drama has turned on and off between the sisters. At one point, Kourtney called Kim an "evil human being." At another, Kim said Kourtney was acting like a "lunatic," according to Glamour. You get the idea. It's gotten pretty ugly at times.
They were even fighting and arguing on Twitter about their differences for awhile there.
Needless to say, Keeping Up With the Kardashians has been a wild ride this season. But really, when isn't it?
All of that helps explain why a clip featuring a discussion about who would be True's guardian had an air of tension to it. In the clip, Khloé decided who True's legal guardian would be, and told both Kim and Kourtney at once, according to Cosmopolitan.
In the teaser, it's revealed that Khloé chose Kim as True's legal guardian, and not Kourtney. I mean, we knew from the start of the conversation that it would be one or the other, since they were the only two people there with Khloé, but it may have still been a surprise choice to both sisters.
"So I can't make anything official until after the baby is born, but I am going to probably have Kim as the legal guardian if, God forbid, something happens," Khloé tells her sisters. In the clip, she continues:
Just because I don't know my parenting style until I have a baby, but from what I envision my parenting style to be, I do think it will be more like Kim — a little more... stricter.
Of course, Khloé shouldn't have to justify her choice to anyone. It's a parents' right to decide who their kids' legal guardian should be, and they can have whatever reasons they want informing their choice.
And ultimately, Kourtney seems to get that. She addresses Khloé and says, "Guess what? You don't have to give me an explanation. I've got three kids and I'm busy on my own." But she does admit later on in the clip that she is "disappointed" that she's not the chosen guardian of her niece, but that she gets it.
It's obvious that the conversation is a little difficult and awkward, but it becomes a little more awkward when Kourtney explains that she's gone back and forth with her own decision about which of the two sisters should be the legal guardian of her own kids — Mason, 8, Reign, aged 3, and daughter Penelope, who is 6, according to People.
Kourtney explains that her choice was originally Khloé, then Kim, then Khloé again, and Kim then asks "what made you kick me off?" Kourtney begins to reply, "I decided that your core moral values..." but she's cut off by Kim laughing and Khloé saying "Oh my God." But the comment might have had a little something to do with Kourtney once calling Kim a "very distraught, evil human being."
In any event, Kim is True's legal guardian as of right now, at least according to what we learned from the KUWTK clip above. But who knows what all the legalities actually look like behind the scenes. One thing is for certain though: at least in front of the cameras, the drama in the Kardashian household never seems to end.