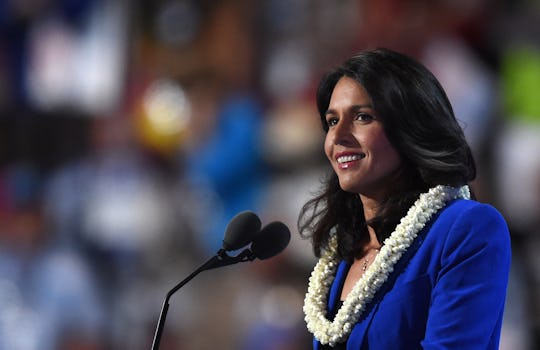 TIMOTHY A. CLARY/AFP/Getty Images
Who Is Tulsi Gabbard? The Democratic Congresswoman May Get A Job In Trump's Administration
The world has been closely watching President-elect Donald Trump's every move since his stunning election victory earlier this month. Whether it's Cabinet appointments or his various scheduled meetings, citizens across the country are paying close attention as many people (considering Hillary Clinton's growing 1 million lead in popular vote) are still concerned about how a Trump presidency will play out in the new year. One of those scheduled meetings on Monday morning sparked exceptional curiosity. In what may seem surprising to many, Trump met with Democratic Hawaii Rep. Tulsi Gabbard to discuss a variety of issues — but, for those not in the know, who is Gabbard, and what is her track record in government like, exactly?
Gabbard is from Hawaii, has a history in public service and the military, and has long been an advocate for environmental issues. As the biography on her website reads, she co-founded an environmental nonprofit as a teenager. By age 21, Gabbard was elected to Hawaii's state legislature in 2002, and joined Hawaii's Army National Guard one year later. According to her biography, Gabbard voluntarily deployed in 2004, and again in 2009, to serve in the Middle East as a specialist in a field medical unit, and a primary trainer for the Kuwait National Guard respectively. She was later elected to the Honolulu City Council in 2010, and elected to Congress in 2012 – making her one of the first woman combat veterans to serve in Congress.
Gabbard memorably stepped down as vice chairwoman of the DNC back in February, to officially endorse Sen. Bernie Sanders for the Democratic nomination.
So what was the purpose behind Gabbard's unlikely meeting with Trump? Apparently, the focus was on Syria and other foreign policy issues. Gabbard released a statement following her meeting with Trump, in which she made clear that her meeting was not about politics. A clip of the statement read:
President-elect Trump asked me to meet with him about our current policies regarding Syria, our fight against terrorist groups like al-Qaeda and ISIS, as well as other foreign policy challenges we face. I felt it important to take the opportunity to meet with the President-elect now before the drumbeats of war that neocons have been beating drag us into an escalation of the war to overthrow the Syrian government—a war which has already cost hundreds of thousands of lives and forced millions of refugees to flee their homes in search of safety for themselves and their families.
While the rules of political expediency would say I should have refused to meet with President-elect Trump, I never have and never will play politics with American and Syrian lives.
It's unclear what will come out of Gabbard's meeting with Trump. Since news of their meeting spread, there have been some reports speculating whether she'll be considered for a position in Trump's administration. It certainly will be interesting to see how their exchange pans out considering she's considered a more liberal elected official – though her stances on gun control, and her criticism towards President Barack Obama for not using the term "Islamic extremism" has separated her from certain typically-liberal stances.
In the meantime, the world will continue to pay close attention, I'm sure.