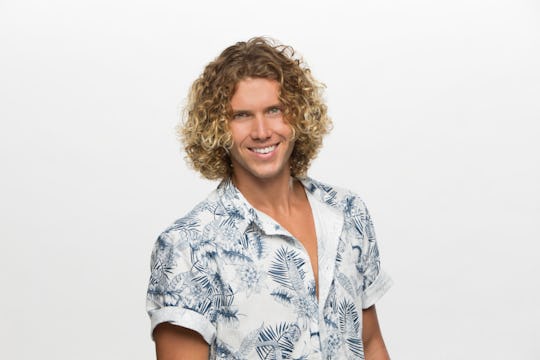 Sonja Flemming/CBS
Tyler From 'Big Brother' Has An *Interesting* Life Motto
A new season of Big Brother means a new crop of houseguests. This season eight women and eight men enter the house to compete for the grand prize of $500,000. One of the competitors this season is Tyler Crispen, so you might wonder: who is Tyler on Big Brother and can he really win it all?
Tyler is 23 and is originally from Rossford, Ohio but currently lives in Hilton Head, South Carolina where he works as a lifeguard. In his cast bio he describes himself as resilient, charismatic, and questionable. His questionable personality is probably why he fears people won't believe anything he says in the house. "When I'm lying, people think I'm telling the truth, but when I'm telling the truth, people think I'm lying," he explained in his bio.
When it comes to his favorite past houseguests he said, "Victor Arroyo [Big Brother 18] for his resilience, Zach Rance [Big Brother 16] because he's hilarious, and Dan Gheesling [Big Brother 10] for being a savage." As for his strategy for the game, Tyler has really thought it through.
"[I'll] get in tight with someone opposite of me, divide the house with them on one side and me on the other, get intel from their side from them while making sure they keep me safe by making them feel like I'm keeping them safe. Then, cut them in Final 4 when the time is right and take credit for the whole thing," he said in his bio.
Tyler's strategy is a pretty good one, however, working with someone the whole game and then turning on them at the very end is a surefire way to end up with a bitter jury member who could then turn the whole jury against you. So, although Tyler's plan could get him all the way to final two, it could also cost him the $500,000. Even so, the second place winner still goes home with $50,000 so maybe that's okay with Tyler. Who knows? In any case, Tyler's strategy is certainly subject to change once he gets in the house and meets the other house guests.
Tyler's life motto is, "Do whatever the hell you want," and if he could he would bring his Spotify playlist, a pre-workout supplement, and an unlimited amount of quinoa into the house. It sounds like he and his fellow houseguest, Kaycee Clark, will get along. She also wanted to bring a pre-workout supplement into the house. Because of Tyler's plan he probably won't end up befriending her, but you never know. These two could end up being workout buddies in the house. That workout equipment in the backyard always tends to bring people together.
Tyler's fun facts include falling in a muddy construction hole at 3 a.m. once and being stuck there for 30 minutes; spending six months traveling Australia; getting bit in the face by a fish at the Great Barrier Reef; falling off a pool as a kid and kind of dying; and being a champion bowler. Based on his Instagram, it's clear he loves to travel and loves being in the water, so being a lifeguard is probably the perfect job for him.
Though Tyler hopefully won't need to use any of his skills from lifeguarding while in the house, his time in the water and love for working out has probably given him strength, which will definitely help him in physical competitions. However, Tyler would be smart not to make it clear how strong he is early on so he doesn't end up with a target on his back. That'll be difficult though, since he definitely looks strong. Still, if Tyler has a good enough social game he should be able to throw any targets off his back.
You can meet Tyler and the rest of this season's houseguests when Big Brother premieres on Wednesday night at 8 p.m. EST on CBS.