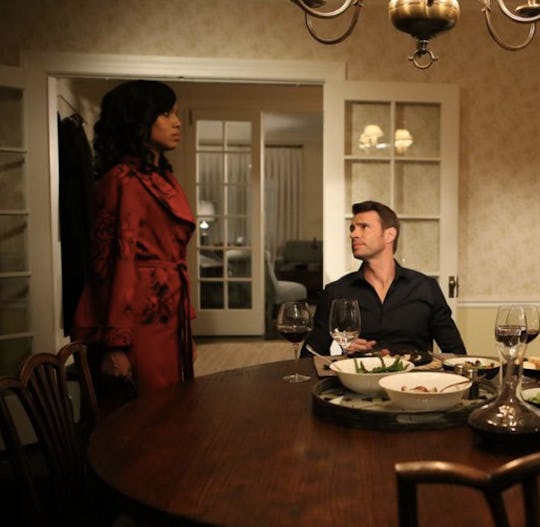 Kevin Estrada/ABC
Who Is Vanessa Moss On 'Scandal'? Jake Ballard Has A New Lady In His Life
If two is company and three is a crowd, what does that make four? Well, on Scandal, four is really, really awkward. If you want to feel like you don't belong in a situation, just catch the final moments of Thursday's Scandal, when Olivia walks in on a dinner party featuring her father, Jake, and Vanessa Moss. Oh, who is Vanessa Moss on Scandal, you ask? Just Jake's new fiancée. Yeah, Jake is engaged, not long after a very sexy visit to Olivia's apartment, and if you're anything like me, you don't trust him, the engagement, or the new woman.
We don't know much about Vanessa Moss. That's probably because we have only seen her for a few moments over the past few episodes — but clearly Jake knows enough about her to pop the question. Zap2It says that Vanessa Moss is "highly connected in Washington, D.C." and I wouldn't expect anything else from Jake. Although Jake has acquired his own power during the most recent season, he has always clung on to others' power (i.e., all the Popes).
Although I don't know if Vanessa Moss herself is really up to something, I have a feeling Jake is probably using her and her connections to make his next big move. He may have gotten his hands on the NSA job, but he's always looking for the next best thing.
Plus, we know he doesn't really love Vanessa because he has been cheating on her with Olivia. This guy is Shady with a capitol "S," and he can't be trusted.
So, what does Olivia think of Vanessa Moss? Well, she says she's not jealous of the woman Jake's planning on marrying, but I can't believe she's not a little skeptical about her. After all, she walks into dinner with her father to find her ex, her dad, and Vanessa clinking glasses in honor of the engagement. That's a lot to handle, no matter how stone cold you can keep your face in the moment. (And, by the way, Olivia did not give anything away when she heard the news.)