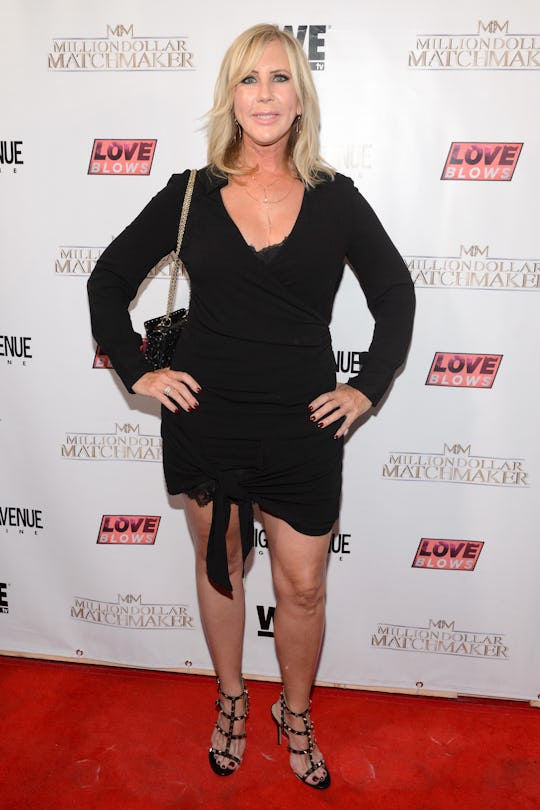 Daniel Boczarski/Getty Images Entertainment/Getty Images
Vicki Gunvalson & Steve Lodge Are Still Together On 'RHOC'
The return of The Real Housewives of Orange County is imminent, and it comes not a moment too soon. The thirteenth season of the very first installment of the Real Housewives franchise will premiere on Bravo on July 16, reuniting viewers with the self-proclaimed OG of the OC: Vicki Gunvalson. The trailer for Season 13 hints at some romantic developments for Vicki, but just in case you need to be reminded of who Vicki Gunvalson's boyfriend is, here's a refresher.
Vicki has been dating Steve Lodge for two years now; according to Bravo, they celebrated their second anniversary in February of this year. Steve is a former homicide detective, police commissioner, and military paratrooper who currently works as a consultant at a public affairs firm in Anaheim, per Us Weekly. In his Instagram bio, he describes himself as a veteran, a retired member of the force, a public policy advisor, the governing board director of Orange County Global Media Center, and a father and grandfather.
Steve seemed to live a pretty private life before dating Vicki, though he wasn't entirely out of the public eye. He had run for Anaheim City Council in 2012 and 2016, which brought up past accusations of police brutality from his time on the force.
In 1990, Steve was sued for using excessive force after an altercation with Hossein Farahani. According to the LA Times, Farahani was jaywalking when Steve attempted to stop him; Farahani fled out of fear, which was when the situation escalated.
Both sides disagreed about exactly how the events played out, but Farahani ended up with "a ruptured disc in his back and a gash on his head that required eight stitches." He alleged that Steve had beat him with a baton, and was awarded $612,000 by the court. OC Weekly reported that Steve denied doing so, with his lawyers claiming that Farahani's injuries were the result of a struggle that ensued after he ran. It doesn't appear as though Steve has commented directly on the situation in recent years.
Vicki and Steve's relationship was solid in Season 12 of RHOC in part because her children vastly preferred Steve to Vicki's ex Brooks Ayers. But some trouble might arise in Season 13. The trailer indicates that taking the relationship to the next level might be a concern for the couple. Tamra Judge demands that Steve marry Vicki in the first look at the season, which prompts Steve to leave the room; earlier on in the trailer, Vicki had assured him she wasn't asking him to marry her. It's always possible the trailer is amping up the drama, but it seems like this is something that will come up.
Another issue might arise between Vicki and Kelly Dodd because of Steve. It seems Steve is good friends with Kelly's ex-husband Michael Dodd and may have even introduced him to his new girlfriend. Vicki and Steve went on a double date with Michael and his new partner, which Kelly apparently does not take well. A source told Us Weekly that Kelly felt betrayed by Vicki because of this. "Vicki denies that she had anything to do with setting them up," the source added. "She says they met outside of her." Though, they continued, Vicki chose not to tell Kelly what was going on because she "didn't feel it was her place, because the news should have come from Michael."
Season 13 of RHOC will be as drama packed as usual from the looks of it, but it also seems like viewers might get to know Vicki's partner a little bit better, too.
Editor's Note: This post has been updated.