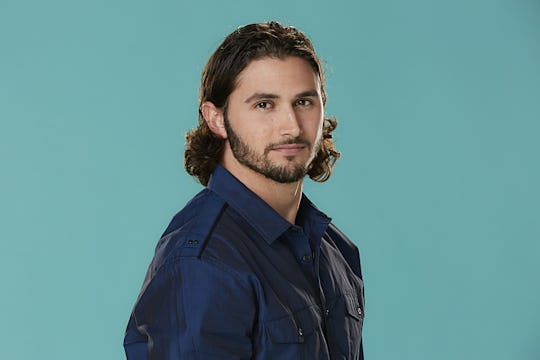 Monty Brinton/CBS
Who Is Victor on 'Big Brother 18'? He's Open To A Showmance
Big Brother is about to kick off its 18th season, but the house already has its own self-described "Cody" of the cast — and no, it isn't Cody's brother, who will also be among the houseguests this year. Victor Arroyo is aiming to use the same flirty-friendly strategy used by Cody in Season 16 to get ahead in the game this season. So who is Victor Arroyo on Big Brother? Prepare for yet another piece of shirtless eye candy, because he's a manager at a gym, he loves to train, and he is very straightforward about the fact that he has trouble finding shirts to fit his biceps. Cool story, bro.
Victor is a graduate of University of New Orleans with a bachelor's degree in finance, so he identifies intellect as one of his triple threats, along with his physical prowess. (Though he admits, endurance is not his strong suit, so he may fall short on those challenges.) The third skill he thinks will get him far in the game is his social acumen.
"Being a manager, managing 14 different people, those are 14 different personalities that I have to manage," he astutely points out in an interview. "So hopefully I can use that [in the house]."
And, since Victor is single and hunky with a boyishly innocent face, he identifies that as yet another feather in his "social skills" cap.
"If a showmance comes up, that's a possibility," he reveals. "If not, flirt with as many girls as possible. Pull a Cody, [don't] get any girls to be mad at me, have them on my side."
Of course, the willingness to strike up a showmance begs the question: would be stab a love interest in the back for $500,000 or value the relationship? Victor answered that it would depend on how he felt about the person, and that he would have to gauge the relationship's potential to make that call.
Though, when it comes to being hated by the whole Big Brother fandom in order to win the game, he said, "I would much rather have America love me than win this game."
As for his weaknesses, Victor fears that "trying to get everyone to like me all the time" might be something that contributes to his downfall this season. He is awfully friendly and genuine-seeming, but he comes off a little arrogant in his written bio responses, like when he basically admits women are disposable to him, saying, "I'm always looking for the next girl to talk to and I'm never satisfied with what I have, always wanting more." As for which side of Victor is the most authentic, we'll just have to watch to find out.