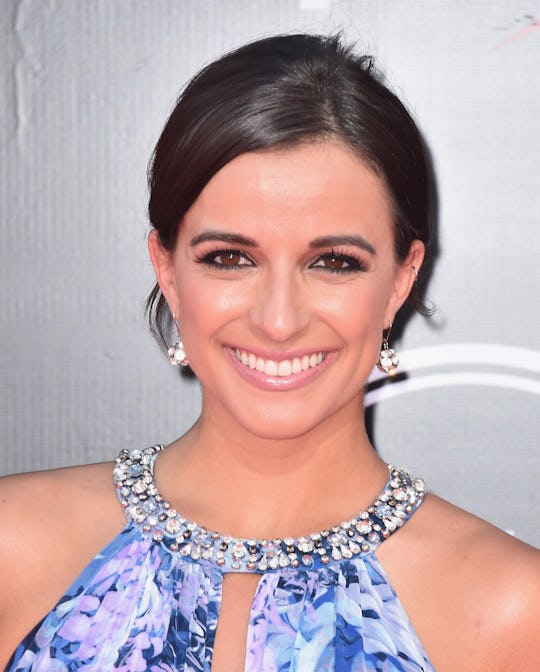 Alberto E. Rodriguez/Getty Images Entertainment/Getty Images
Victoria Arlen Is One To Watch Out For On 'Dancing With The Stars'
Dancing With the Stars isn't necessarily a show about inspiring hope or about the strength of individuals overcoming hardships or adversity, but maybe it should be. First, injured bull rider Bonner Bolton danced across the ballroom floor last season and now former paralympian swimmer Victoria Arlen is set to compete in Season 25. Suffice to say, the show is becoming a solid jumping off point for stars to regain their performing prowess. But who is Victoria Arlen on Dancing With the Stars? The former athlete has overcome a lot within the past few years and, you wouldn't have guessed that she would be here now, competing on DWTS with pro partner Val Chmerkovskiy.
Until a year and a half ago, Arlen had little control over the lower part of her body and couldn't walk, let alone dance across the room. According to her personal essay on ESPN.com about her diagnosis and eventual recovery from two rare diseases, Arlen's battle to regain control of her body started in 2006, when she was just 11 years old.
According to the DWTS contestant, the problem began when she felt aches and pains in her back and side. After having her appendix removed, which was thought to be the source of the problem, things only go worse for her from there.
Because of Transverse Myelitis and Acute Disseminated Encephalomyelitis — two extremely rare health disorders she would later be diagnosed with which cause swelling in the brain and spinal cord — Arlen quickly lost all feeling in her legs, then arms, and soon after, she could no longer talk either.
Arlen was effectively paralyzed and then, as Arlen explained in her essay, "everything went dark." It wasn't until two years later that she woke up from her vegetative state, still unable to move.
I woke up inside a body that could not move. I was locked in. I could hear the conversations going on around me, but I had no way of alerting anyone that I was aware they were there.
In December 2009, Arlen slowly started regaining control of her body, starting with making eye contact with her mother. Eventually, she was able to talk, move, and function again, but still maintained no feeling in her legs. Still, she found success as a paralympic swimmer and in 2012, at the age of 17, Arlen competed at the London Games and won three silver medals. Thanks to her strenuous therapy with Project Walk, a San Diego paralysis recovery center, Arlen eventual learned to walk again and after her first step in November 2015, she slowly started moving her legs again on her own.
Arlen was totally paralyzed for years, but the 22-year-old is determined to use her newfound feeling and strength to waltz across the DWTS ballroom floor and for that determination alone, you can't help but root for her. "I've had my whole world ripped away from me, but I've gotten it back and I've picked up the pieces. I've stood amongst the rubble, and I think there's a lot of people going through different things where you feel like your whole world's imploded and you feel like you lost it all," the DWTS contestant told E! News. "Whether it's physical, emotional, whatever you're going through, and then even now with these disasters and stuff… I got my life back for a reason, I got my voice back for a reason."
Clearly, Arlen can do almost anything she sets her mind to and I can't wait to see her ballroom journey play out this season.
Watch Romper's new video series, Romper's Doula Diaries:
Check out the entire Romper's Doula Diaries series and other videos on Facebook and the Bustle app across Apple TV, Roku, and Amazon Fire TV.