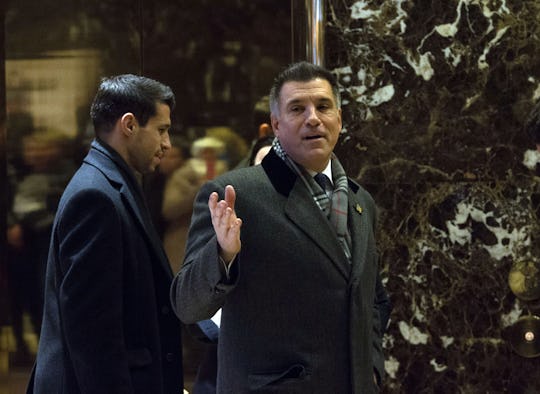 BRYAN R. SMITH/AFP/Getty Images
Who is Vincent Viola? He's Got A Long Financial & Military Background
Last week, while most people were been were debating (and dreading) who President-elect Donald Trump would choose to be his secretary of state, it was easy to forget that there are other important Cabinet positions that remain vacant. One of those key positions is Secretary of the Army, the candidate for which the president-elect announced on Monday. Trump's pick is Vincent Viola, who isn't exactly a public figure. So who is Vincent Viola?
The Secretary of the Army is responsible for mobilizing and equipping the Army, as well as coordinating between the Army and the other military departments. Viola's years of involvement with the military make much more prepared for the position than some of Trump's other Cabinet picks are for their positions.
Viola graduated from West Point Military Academy in 1977, and went into active duty with the 101st Airborne at Fort Campbell in Kentucky. He remained in the Army for many years, rising to the rank of major.
"It is an honor to be nominated to serve our country as President-elect Trump's Secretary of the Army," Viola said in a statement. "If confirmed, I will work tirelessly to provide our president with the land force he will need to accomplish any mission in support of his National Defense Strategy."
Among the goals of Trump's National Defense Strategy is to increase the size of the Army to 540,000 soldiers. Currently, there are 479,000 active soldiers.
In 2002, Viola founded the Combating Terrorism Center at West Point, which teaches and researches counterterrorism strategy and policy. Viola was raised by Italian immigrant parents, and his father was a truck driver. Trump called Viola "an American dream," The Guardian reported.
In an interview with Bloomberg, Viola said that he most values trust and efficiency. Perhaps because of his military service, Viola also said he's uncomfortable that some people see him as a villain because of his electronic-trading firm Virtu Financial, which he established in 2008. "The biggest misconception of this firm is we're some nefarious quantitative firm with a secret algorithm," he told Bloomberg.
Romper reached out to Virtu to find out if Viola will remain its executive chairman once he takes over as Army Secretary, but has yet to hear bag.
Viola served as chairman of the New York Mercantile Exchange from 2001 to 2004. He is also owner of the National Hockey League's Florida Panthers.
All of this business expertise means Viola has to be pretty rich, right? Viola is worth an estimated $1.78 billion dollars, according to Forbes. That's right, billion. You know those lower-income white people who reportedly voted for Trump? Yeah, this pick (along with the other billionaires Trump has chosen to join his White House) is definitely a step away from making sure those voices are represented. But at least he does have experience applicable to the job, so that's a plus.