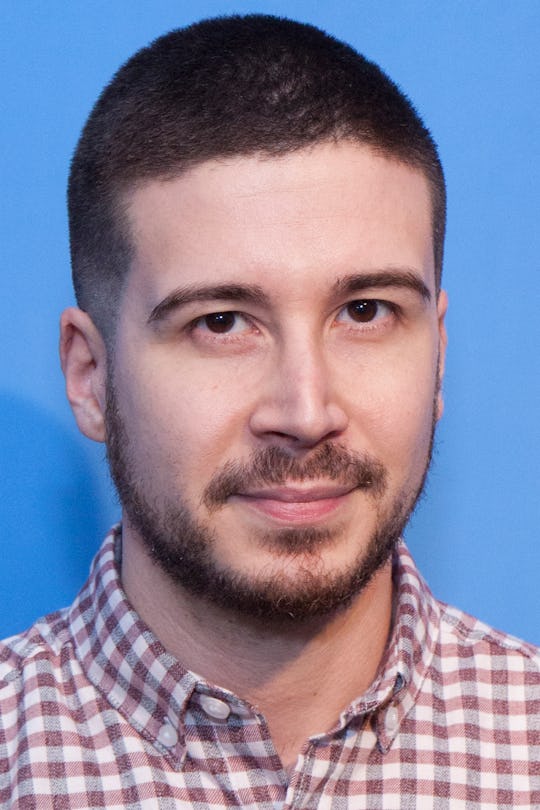 Santiago Felipe/Getty Images Entertainment/Getty Images
This 'Jersey Shore' Alum May Be Off The Market
If you know anything about Jersey Shore, then you know that hooking up with strangers you met at the club is a big part of the lifestyle. Now that the show is getting a reboot, it is very important to know everyone's dating status — and particularly Vinny, who appears to have gotten extremely attractive as of late. So who is Vinny Guadagnino dating? The Jersey Shore alum may or may not be spoken for. He's not giving me a lot to work with here, which is frustrating for me, but I guess fair for him.
The new Jersey Shore reboot is called Jersey Shore Family Vacation, and takes the entire original cast (except Sammi "Sweetheart" Giancola) to Miami Beach instead of New Jersey, for yet another season of heavy drinking, a new vocabulary, and likely at least a few regrettable decisions. But will Vinny be joined by a lady friend for all of this? Life & Style has reported pretty definitively that Vinny is dating a woman named Elicea Shyann, judging by a couple of photos of the two on Vinny's Instagram account.
However in these pictures, no woman is explicitly named, so I am hesitant to say that these two are definitely an "item." I went to Elicea's own Instagram account, but her pictures are almost exclusively selfies, and definitely do not feature any guy that could be her boyfriend. It's possible that she's keeping her Instagram quiet for the sake of privacy, or it's possible that she's never met Vinny in her life and has therefore no reason to put him on her page.
Vinny did post two photos of himself with a woman a couple of months ago. One picture posted in December showed the two of them with the simple caption, "My baby." In early January, Vinny posted another picture of the two of them, captioning this photo with just three fire emojis. Since then, there have been no more pictures of Vinny with any women. So on the one hand, maybe the two of them broke up and like a normal person Vinny did not continue to post pictures of her on his Instagram account.
Another theory is that Vinny is attempting to keep the relationship a secret because it's going to be a plot-line on Jersey Shore Family Vacation and Vinny is trying to protect you and me from spoilers. How sweet of Vinny. Maybe the woman pictured is someone Vinny met while out on the town in Florida with his boys, and the two started a relationship. After all, it's happened to Vinny before. Remember Ramona from way back in Season 2? Sure, that relationship was hardly meant to last, but that doesn't mean it's the last chance for old Vin.
In any case, there's little doubt that everyone curious about Vinny's love life will know the truth once the show debuts on Thursday, April 5. Any sort of relationship status is sure to be discussed, especially considering so many members of the cast are now married and have children. The dynamics are sure to have changed now that the stars are in their early 30s with more grown-up lives. But single or not, I know I can count on Vinny and the rest of the group to live their best lives, do something embarrassing that somehow becomes endearing, and be extremely entertaining. I can't wait to see them all reunite again. Uh oh, I think I may be getting emotional.