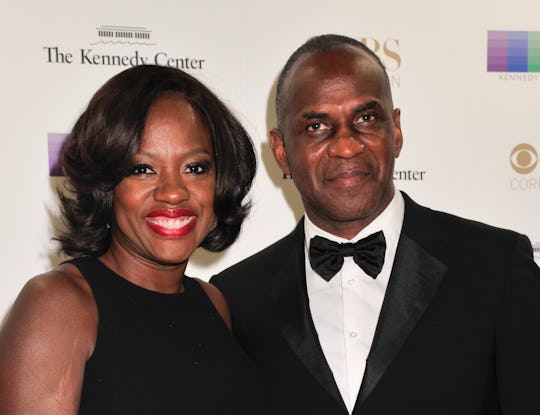 Kris Connor/Getty Images
Who is Viola Davis' Husband? 7 Things You Need To Know About The Golden Globe Nominee's Right Hand Man
Behind every good woman is herself. How to Get Away with Murder actress Viola Davis also has a kick-ass husband who's been by her side as she's come up through Hollywood over the past decade. So who exactly is Viola Davis' husband and what do we know about him?
According to Heavy, his name is Julius Tennon and he's an actor and producer — and he also happens to have that chiseled bone structure that makes a man's face oh-so-sexy. Tennon also supports his award-winning wife in all her endeavors — all you have to do is take a look at their red carpet pictures to see proof of that. This couple seems to be a legitimate Hollywood romance.
The duo have three children between them — two from Tennon's previous relationships, and one, a little girl named Genesis, whom the couple adopted in 2011. In an interview with Theatre Communications Group, Davis said she was attracted to Tennon at least in part because he was a single father. "He was a single father for 16, 17 years," Davis said. "He raised his children by himself [while] pursuing a career in acting. So he has character. He's a good man."
Aside from being a "good man," here are seven things you need to know about Julius Tennon:
Viola Davis Prayed, And He Appeared (No, Really)
Unlike her HTGAWM character, Annalise Keating, Viola Davis believes in the power of prayer to bring true love. According to Us Magazine, Davis claimed in the early 2000s that she "was the loneliest woman in the world, and someone said, 'You should just pray for a husband'" — so she gave it a try. Three weeks later, she met her husband.
He's The Co-Founder Of A Production Company
Tennon, who is co-president of JuVee Productions with wife Davis, told Backstage Magazine about the couple's mission, saying, "I think some of our bigger goals are to get some of the stories told that aren't being told in the mainstream ... [specifically] some minority stories and some of the documentary history—maybe about the Middle Passage, and things that people aren't that familiar with."
He Stands By His Woman
When Viola Davis became the first African-American woman to win an Emmy in the Outstanding Lead Actress category last year, her husband shared in the exciting moment. In an interview with Ellen Degeneres afterward, Davis said that her husband got worried for her during her speech. "My husband said afterwards, 'V, I didn't know where you were going with that, I really didn't,'" she recounted. ""When you were saying 'those white women with their arms stretched out over the line', I was like, What is she doing?'" Luckily everything turned out fine and the couple had plenty to celebrate later.
He's Fine With His Wife's Love Scenes
As a fellow actor, Julius gets that what happens on set stays on set — even though Davis told Us Magazine that she and Julius met in 1999 on set filming CBS's City of Angels. Davis insisted that the on-set chemistry was undeniable, telling Us,
He was the anesthesiologist, Dr. Holly, and I was Nurse Lannett. We were passing blood in a scene. He knew how lonely I was. I was out in L.A. and I hated it and he said, 'I'll show you around Los Angeles. I'll show you around the Santa Monica pier.'
He Supports Her Status As A Sex Symbol
Beyond all the glamour and the glitz, Viola and her husband share a ten-year marriage based on mutual respect and pride in each other's successes. This Hollywood husband supports his wife's success. "She's the sweetest woman," He told Us Magazine in 2013. "It's so great to see her be all of who she is. That's what I love about her."
He Inspires His Wife To Be Romantic On Social Media
... It doesn't hurt that he happened to look super studly in the birthday pic Viola posted when he turned 63 in December. (That sort of sentimental message sure is a departure from something Viola's alter-ego Annalise.)
He Admires Viola
I personally love how Viola's husband lets his wife take the spotlight. The photo above shows the genuine pride on Julius' face as Viola waves to her legion fans arriving on the red carpet for her Oscar-nominated turn in The Help — and that's something you can't fake. Also, I'm a fan of the exquisite bone structure on Julius' face. Just sayin'.
Images: Kris Connor/Getty Images; Giphy (3)