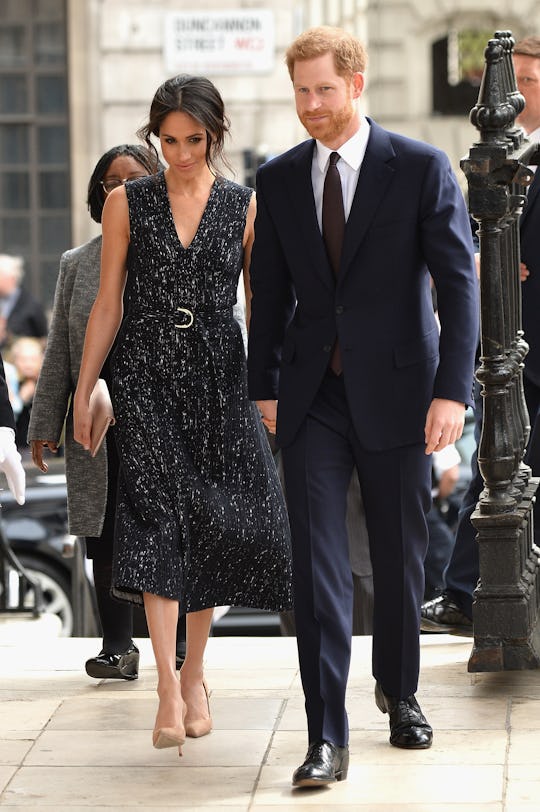 Jeff Spicer/Getty Images Entertainment/Getty Images
This Lucky Person Will Walk Meghan Markle Down The Aisle When She Marries Prince Harry
I vividly remember the last royal wedding. I was working in Dublin, and I'm pretty sure the productivity of the entire country of Ireland stopped altogether for the hours of royal wedding coverage. And with the realization that we'll likely have a pretty long wait before Princes George and Louis or Princess Charlotte tie the knot, I'm hanging on every detail of these royal nuptials, including who is walking Meghan Markle down the aisle. Hint, she's following tradition.
As Kate Middleton's father walked her down the aisle when she med Prince William in 2011, Meghan own father, Thomas Markle, will walk her down the aisle when she marries Prince Harry at Windsor Castle on May 19. The website of the royal family, Royal.uk, has been keeping all of the inquiring minds apprised of the latest in wedding planning. They explained that "Mr. Thomas Markle and Ms. Doria Ragland will be arriving in the UK in the week of the wedding, allowing time for Prince Harry's family ... to spend time with them before the big day." While Markle's parents are divorced, they will both be taking part in the royal wedding; Markle's mom Doria Ragland will be riding in the car to Windsor Castle with her, and "Mr. Markle will walk his daughter down the aisle of St George's Chapel." I'm oddly emotional thinking about what a moment that will be, all for the world to see!
Thomas has not yet met Harry, but according to an interview with the BBC after their engagement, he has spoken on the phone to Meghan's father a few times and even asked her permission to propose.
Up until an official statement from the royal family regarding Thomas's role in the royal wedding, there was tabloid speculation that Meghan's father had not gotten an invitation to the royal wedding. But perhaps that's because he already knew the details since he's playing a major role! Either way, Good Housekeeping reported that he'll be traveling from Mexico, where he retired a few years ago, to be there on the day.
The world knows quite a bit more about Thomas Markle than they did before Meghan became the new future royal. He worked as a lighting director and director of photography on the Fox sitcom Married...with Children. Meghan wrote of her parents in an essay for Elle, about her experience as a biracial child and woman. "It was the late Seventies when my parents met, my dad was a lighting director for a soap opera and my mom was a temp at the studio. I like to think he was drawn to her sweet eyes and her Afro, plus their shared love of antiques," she wrote.
Meghan explained that she and her parents lived in the Valley, in Los Angeles, in a neighborhood that was leafy but lacked diversity; her father seemed to have played a critical role in "how they crafted the world around me to make me feel like I wasn't different but special." Meghan recounted a story from a Christmas when she was a young girl, coveting a Barbie family doll set that only came in white or black versions. She described her father's solution to that problem: "On Christmas morning, swathed in glitter-flecked wrapping paper, there I found my Heart Family: a black mom doll, a white dad doll, and a child in each colour. My dad had taken the sets apart and customised my family."
While many people have commented that Meghan will be the first mixed-race princess to join the royal family, the Washington Post reported that this might not be totally accurate, "Historians suspect that Queen Charlotte, the wife of King George III who bore the king 15 children, was of African descent." Regardless, here's hoping it's the beginning of a new, more diverse generation of royals. One thing's for sure: All eyes will be on Meghan and her father as they walk down the aisle on May 19, and they will be making history one way or another.