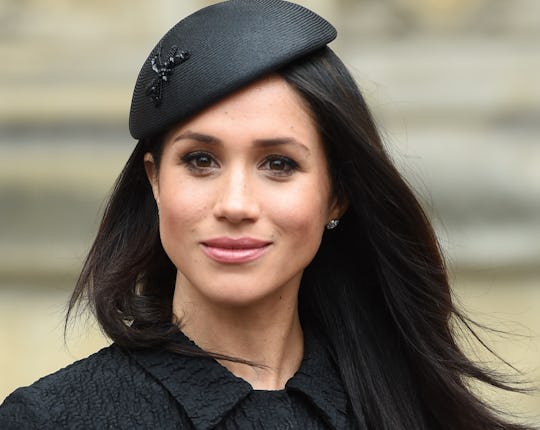 WPA Pool/Getty Images Entertainment/Getty Images
Who Is *Really* Walking Meghan Markle Down The Aisle? Here's Everything We Know
In case you've missed, there's been some drama with a capital "D" going on during the last few weeks in regard to one specific detail about the royal wedding. Prince Harry and Meghan Markle will be exchanging vows in just four days, on Saturday, May 19. So you'd think certain aspects of the grand affair would be pretty much nailed down by now. However, after it was revealed Meghan's father, Thomas Markle, was paid to stage paparazzi photos of himself "preparing" for the upcoming nuptials, he had announced he wasn't going to attend the royal wedding after all. So who is walking Meghan Markle down the aisle?
Update: On Friday, May 18, Kensington Palace confirmed that Prince Charles would be walking Meghan Markle down the aisle, according to BBC.
Earlier: On May 4, Kensington Palace had confirmed that Thomas would be serving the traditional honor of walking his daughter down the aisle, Elle reported. "Both of the bride's parents will have important roles in the wedding," Kensington Palace revealed in a statement. "On the morning of the wedding, Ms. Ragland will travel with Ms. Markle by car to Windsor Castle. Mr. Markle will walk his daughter down the aisle of St George's Chapel. Ms. Markle is delighted to have her parents by her side on this important and happy occasion." However, things took an interesting turn just 10 days later.
Back in April, photos of of Thomas "preparing" for his daughter's wedding started circulating online, the Daily Mail reported. They included shots of the 73-year-old former TV lighting director reading a copy of Images of Great Britain: A Pictorial Tour Through History at an internet cafe, getting fitted for a suit, and exercising. However, after the Daily Mail revealed these "cheesy" photos were actually staged — and Meghan's dad was generously compensated for them — it seems Thomas's embarrassment got the best of him.
TMZ reported on Monday that Thomas had decided not to attend the royal wedding because he didn't want to embarrass Meghan or the royal family in light of this recent photo scandal. Still, Thomas insisted money wasn't his primary motivation for collaborating with paparazzi. It was more about improving the public's perception of him, TMZ reported.
Markle tells us over the last year he's been ambushed by paparazzi who have photographed him in the most unflattering circumstances ... buying beer, looking disheveled and reclusive ... Thomas says the paparazzi agency approached him, offered him money — though nowhere near the reported $100k — and he figured there was no harm in it and it would help recast his image.
Which brings us to Tuesday. The Telegraph reported Meghan had tried calling her father on Monday. When he didn't answer his phone (because he wasn't near it at the time), she reportedly texted Thomas to reassure him that she wasn't mad — and that she still wanted her dad to walk her down the aisle. Apparently, the father of the bride has had a change of heart following this exchange. He reportedly told TMZ:
I hate the idea of missing one of the greatest moments in history and walking my daughter down the aisle ... Of course I'd walk her down the aisle. This is a historic moment. I'd like to be a part of history.
Here's the thing, though: Thomas is reportedly back in the hospital for chest pains, after suffering a heart attack a week ago, E! Online reported. If doctors allow him to leave the hospital in time, though, Markle said he would fly to England for his daughter's wedding.
If — for health reasons — Thomas is unable to make it to his daughter's wedding on Saturday, I doubt Meghan will be left to walk down the aisle solo. As People reported, the most obvious choice for her father's replacement would be her mother, Doria Ragland. Prince Charles or Prince Phillip could also potentially fill in, according to the publication.
I guess we'll just have to wait and see if Thomas' doctors clear him for travel within the next few days. But I think it's safe to say that the world is rooting for him to make it to Windsor Castle in time — so he can witness his little girl marry her literal prince charming.