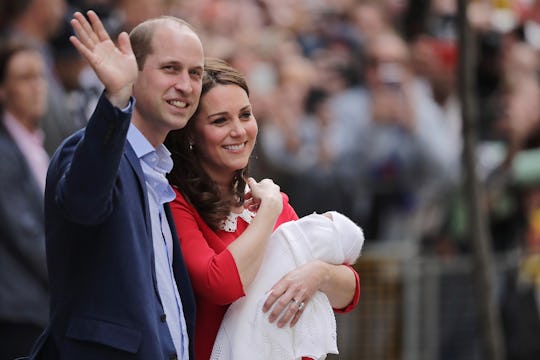 Dan Kitwood/Getty Images Entertainment/Getty Images
Here's Who's Probably Watching Prince Louis During The Royal Wedding
Guys, the big day has finally arrived: The royal wedding! Prince Harry and Meghan Markle's nuptials — the most highly-anticipated wedding of the year — officially started at noon (local time) on Saturday. As services began and cameras panned over those in attendance, many viewers were probably hoping to catch a glimpse of the newest royal baby, Prince Louis. Prince William (who is serving as the best man,) Kate Middleton, and their two older children — Prince George, 4, and Princess Charlotte, 3 — had long been confirmed as guests at the grand affair. But alas, the newborn was nowhere to be found. This begs the question: Who is watching Prince Louis during the royal wedding?
As People reported, Prince William and Kate Middleton welcomed their third child on April 23 at the private Lindo Wing of St. Mary's Hospital. Some simple math reveals that Prince Louis is less than 1 month old today, on Prince Harry and Meghan Markle's wedding day. So it makes sense that earlier in May, a Kensington Palace aid reportedly told Us Weekly the youngest royal child would not be attending the royal wedding. Leading up to the big day, nothing official was confirmed by the royal family in regard to Prince Louis' attendance. But judging by the fact that Kate Middleton wasn't holding the infant during the ceremony on Saturday, it's probably safe to assume Prince Louis sat this one out.
But never fear, concerned fans who missed him. The most likely person caring for Prince Louis is someone he's already well-acquainted with: The royal nanny. Currently, the royal couple has one full-time nanny, Maria Borrallo. (And even before Prince Louis was born, Prince William and Kate Middleton had no plans of hiring additional help for their third child, Vanity Fair reported.) So the mostly likely explanation is that Prince Louis is in the capable hands of Borrallo while the rest of his family is at Uncle Harry's wedding.
Honestly, I'm not too surprised by Louis' absence today. Plenty of parents opt to keep their newborns close to home for those first few months because at that point, they haven't had very many vaccinations protecting them from illnesses. "In truth a newborn baby could go on a plane or be out in public even the day after they're born. We prefer though, that they not for the first two months because the worry is they're going to get sick," Dr. Robin Jacobson, a pediatrician at NYU Langone Pediatric Associates at Irving Place in New York City, told Town & Country magazine. Jacobson added that babies should generally stay away from large crowds for the first two months, if possible. She continued:
I tell my new moms and dads, a week after a new baby is born, if you want to go for a walk, if you're not anywhere too crowded, it's fine, but you really don't want to be in big crowds until they're two months old ... Going to a wedding probably wouldn't be the greatest thing to do when a baby is just born.
Hmmm. I certainly didn't didn't sit at home for two whole months after my babies were born. (Then again, I didn't exactly take my newborns to super-crowded spaces like a royal wedding, either.) But it makes sense that the Duke and Duchess of Cambridge wouldn't want to expose their littlest one to germs/sicknesses lurking in large crowds. Besides, having to deal with a young infant crying during the royal wedding seems like every parent's worst nightmare. So it's probably best for everyone — the baby, his parents, and fellow wedding guests — that Prince Louis skipped uncle Harry's big day.