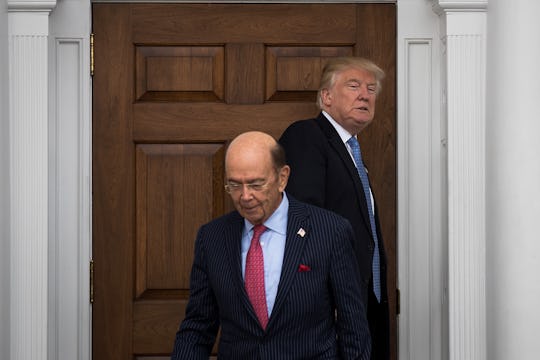 Drew Angerer/Getty Images News/Getty Images
Who Is Wilbur Ross? Trump's Commerce Secretary Will Be Tasked With Creating Jobs
President-elect Donald Trump continues to fill out his Cabinet, and the world anxiously awaits the introductions of the millionaires and billionaires he's chosen to run the country come January. On Wednesday, it was announced that Trump nominated Wilbur Ross, Jr. for secretary of Commerce, who, along with future secretary of Treasury hopeful Steve Mnuchin, will be tasked with making America's finances great. Like most of Trump's cabinet picks thus far, they're businessmen with no governmental experience.
In a press release from Trump's transition team, Ross stated, "I am delighted to have been selected to join President-elect Trump's Cabinet and look forward to working especially closely with Steve Mnuchin to implement the economic programs which we have developed jointly to implement the President-elect's strategy for accelerating our economic growth."
According to NPR, Ross is worth $2.9 billion dollars, making him the 232nd richest person in America. As chairman, chief strategy officer, and founder of the private equity firm WL Ross and Co., Ross amassed his fortune by purchasing failing companies, many in the coal and steel industry, "restructuring" them, i.e. laying off employees, and then flipping them. His most notable purchase is the Sago Mine in West Virginia, where 12 miners were killed after an explosion in January 2006. According to CNN, the mine had 96 safety violations on record the prior year, and the Department of Labor sought $148,400 in fines for the Wolf Run Mining Company following the explosion, which was later reduced in court to just $82,800.
Before he got into flipping failing businesses, or, as New York magazine put it, becoming the "Bottom-Feeder King," Ross worked as an investment banker, spending 24 years at Rothschild, Inc. running its bankruptcy-restructuring advisory practice. He switched from advising to investing in 2000, just in time to cash in on a wave of companies that were plunged into bankruptcy by the stock market crash. His appointment is a stark turnaround from the current administration's secretary, Penny Pritzker, who's an advocate for clean energy and free trade. Ross, on the other hand, believes that "we've been losing with these stupid [free trade] agreements that we've made," according to CNN.
Trump and Ross go way back, and the New York Post reported that if it wasn't for Ross, the Trump we know may not have come to be. In 1990, he represented bondholders in Trump's failing Atlantic City Taj Mahal casino. While some bondholders were hoping for a forced bankruptcy, Ross allowed Trump to talk him into a restructuring deal. As he told the Post, "We could have foreclosed [on the Trump Taj Mahal], and he would have been gone." Think about that. "He would have been gone." No Home Alone 2 cameo. No Miss Universe. No birther movement. And Hillary Clinton might have been president. We have Ross to thank for that.