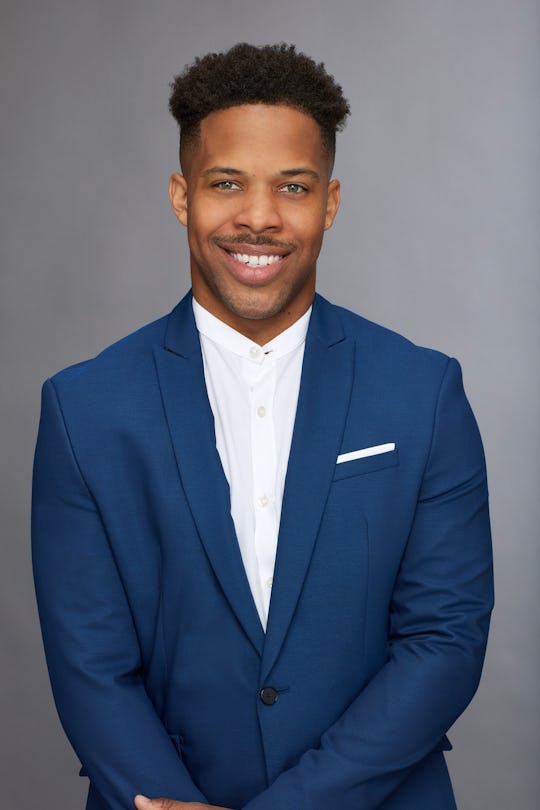 Craig Sjodin/ABC
What You Need To Know About Wils On 'The Bachelorette'
At the beginning of any Bachelorette season, some men get all the screen time and others don't — even though they should. I suspect Wills is in the latter category. Who is Wills on The Bachelorette? The audience may not know much about him yet, but he and Becca have already bonded during the premiere — over Harry Potter.
According to his ABC biography, Wills is a 29-year-old graphic designer from Los Angeles. "Wills was born and raised in Los Angeles, CA. He went to UC Davis and majored in Design," the bio says. "He loves his job as an Editorial Designer, but not as much as he loves Harry Potter. Wills is hoping to cast an enchanting spell on the Bachelorette!"
During the premiere, he showed off that love to Becca. Wills is one of those ride-or-die fans that has a Harry Potter tattoo. When they first met, Wills said he was a "closet nerd" (in which Becca said she was also a nerd), and later on rolled up his sleeve to reveal his "expecto patronus" tat.
According to his LinkedIn, Wills is now a freelance designer but worked for TMZ from February to August of last year as a news desk researcher — so he's probably versed in all things reality television. Wills' graphic design portfolio is also online, where Bachelor Nation can marvel at his beautiful work.
Unfortunately, Wills has no other social media other than LinkedIn (that the internet snooped out, anyway), but thankfully on this Monday's episode he and Becca got to spend more time together. After a dodgeball group date, Wills and Becca had some alone time where they got to know each other more.
Wills asked Becca what she's looking for in terms of husband and father. She said she wants her partner to have her back. When she asked Wills the same question, he said he wants "kindness and loyalty." Wills said he learned everything from his parents, who have been married for almost 50 years. Then they shared a first kiss; in a confessional Wills said he was "stoked" about it, and that it was "sultry and sweet." Before then, Wills didn't consider himself a frontrunner — but now he thinks he's at the top.
Is Wills right? I'm not Reality Steve — and I resist reading his site for the sake of finding out as the season airs — so I don't know. But it seems that Wills and Becca indeed have a connection, and I'm excited to see it potentially unfold. This is especially true because some of her other contestants have already stirred up controversy... and it's only week two!
A prime example of said controversy is Garrett. HuffPost broke that Garrett had liked social media posts that mocked Parkland shooting victims and immigrants. This was during the premiere, when Garrett happened to win the first impression rose. Garrett has since apologized, saying, "I am sorry to those who I offended, and I also take full responsibility for my 'likes' on Instagram that were hurtful and offensive," Garrett shared on a new Instagram account. "I decided to take it down and start fresh because I have learned an extremely valuable lesson and am taking steps to grow, become more educated, and be a better version of myself."
Yikes. That's not all Becca's had to deal with, though. Colton dated Becca's friend from her Bachelor season, Tia, and when Becca found out on the show she was pretty devastated. Thankfully, all the other guys seemed to rally around her, so I'm sure she'll be okay. I want Wills to last long enough on the show so both Becca and the audience learn more about him. Seeing as he won the group date rose Monday night, I'm hopeful that he will.