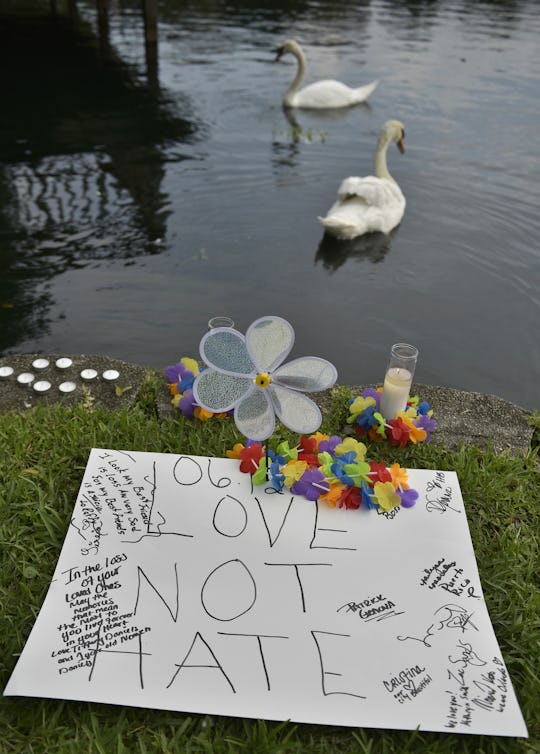 MANDEL NGAN/AFP/Getty Images
Who Is Xavier Emmanuel Serrano Rosado? The Orlando Shooting Victim Was A Dancer & Father
By early Monday evening — a full day and a half after the massacre at Pulse, an LGBT nightclub in Orlando, Florida — the names of 48 of the 49 victims who died in the attack had been released to the public. On this list was Xavier Emmanuel Serrano Rosado, 35, a dancer who worked at Disney Live and had a preschool-aged son, according to the Associated Press. He was known by the stage name Eman Valentino.
As family and friends learned of Rosado's tragic death, they took to Facebook, posting remembrances of their lost loved one, cataloguing their thoughts with the hashtag #RIPXavier. One friend, Kyle Vest, wrote that Rosado had been "one of the best fathers I know, he would work multiple jobs and pass on hanging out with friends just to make an extra dollar for his son." Another friend, Eric Torres Santiago, wrote that "heaven has gained a talented salsa dancer who had a lot of dreams and aspirations."
Several of Rosado's Facebook friends wrote about one of his most memorable dance performances. In 2014, Rosado was featured at the annual Atlanta Bachata Fest, which bills itself as a 4-day, nonstop, Latin dance party. Ray Collazo, a friend of Rosado's on Facebook, linked to the performance, along with this heartfelt message:
As I watch this video over and over its crazy to think you're gone and completely breaks me down.. I remember spending hours in the studio with you and even dancing a routine you choreographed for us.. From your bright personality to fire and passion for dance, you were such a inspiration. A truly great heart who was destined for greatness. So sad to see you go.
Referring to the same Bachata Fest performance, a Facebook commenter wrote, "I was there, it was such a beautiful performance."
Rosado had recently started dating Leroy Valentin Fernandez, 25, a hair stylist, singer, and leasing agent who also died in the attack, according to ABC News. It appears that Rosado and Fernandez weren't the only duo among the victims to have known each other well. Luis Daniel Wilson-Leon, 37, died in the attack along with his boyfriend of eight years, Juan Carlos Mendez Perez, 35. In addition, two best friends died together on the Pulse dance floor: Amanda Alvear, 25, who wanted to be a nurse, and Mercedez Flores, 26, who was studying literature at Valencia College. According to People, the two friends were "inseparable."
Commenting on the myriad of connections among the victims, a man who was friends with several of the victims told The Miami Herald that "Everyone knew everyone [in the Pulse community]. It is really something that is gonna change our lives — our community is never gonna be the same."
Life will never be the same, too, for those who were friends with Xavier Rosado. In a touching Facebook message, Josh Mercer, a friend and "fellow dancer," wrote, "Xavier was the life of the party and I always looked forward to working with him. His sense of humor and undeniable charismatic personality shined in our nightclubs and into to the lives of our friends."
As the details of the lives of the victims are shared over social media for the world to see, we all grieve at the stories of these wonderful people whose lives were ended too soon.