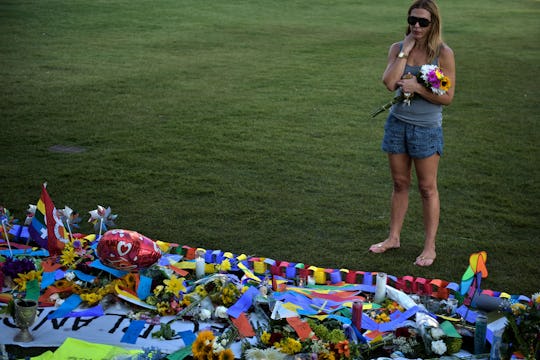 BRENDAN SMIALOWSKI/AFP/Getty Images
Who Is Yilmary Rodriguez Solivan? The Orlando Shooting Victim Was A Mother Of Two
Early Sunday morning, a gunman walked into a gay nightclub in Orlando with an assault rifle and began shooting. In the aftermath, at least 49 people were killed, and another 53 were injured. With a lot of focus currently on the gunman who entered Pulse nightclub, many people are rightfully asking for a spotlight on his victims, instead. One of the Pulse nightclub shooting victims was Yilmary Rodriguez Solivan, 24, who died alongside a friend the night of the shooting.
According to The Orlando Sentinel, Rodriguez Solivan was the mother of two children, including a three-month-old son named Sergio. She was married to Juan Borges, a race car driver, and their family of four lived in Kissimmee, Florida. She had also previously lived in Ponce, Puerto Rico, according to her Facebook page.
The night of the shooting, she was out with a friend, Jonathan Antonio Camuy Vega, and her brother-in-law, William Borges. According to The Orlando Sentinel, Vega died trying to protect Rodriguez Solivan. Borges was the only survivor of the trio, and he recently told CNN:
I was telling my mom (Monday), how could my sister-in-law, who had two children, die ... and I'm still alive? That's what I really can't comprehend.
On Facebook, at 5:25 p.m. on June 12, Borges wrote that he'd been shot twice, but that the injuries weren't serious. "What has been destroyed is my heart and my soul," he wrote. "Please keep asking God for my sister-in-law, the mother of my two angels, and for my friend Jonathan A. Camuy, who have yet to be found. I know many people died, but there's still some alive in hospitals, and I'm clinging to the hope that they're there."
Five hours later, however, Borges wrote a second post on Facebook, sharing the news of Rodrigues Solivan and Vega's death. He wrote:
I love you both from here to heaven, where I know you're resting. I swear, my heart has a ladder tall enough to reach you both.
Rodriguez Solivan was one of 49 victims who died during the Orlando shooting, which was the deadliest mass shooting the United States has seen since 2007. Candelight vigils were held across the United States, and rainbow colors and flags were flashed across the Sydney Harbor Bridge in Australia, the One World Trade Center in New York, Paris' City Hall, and elsewhere around the world in an outpouring of solidarity.