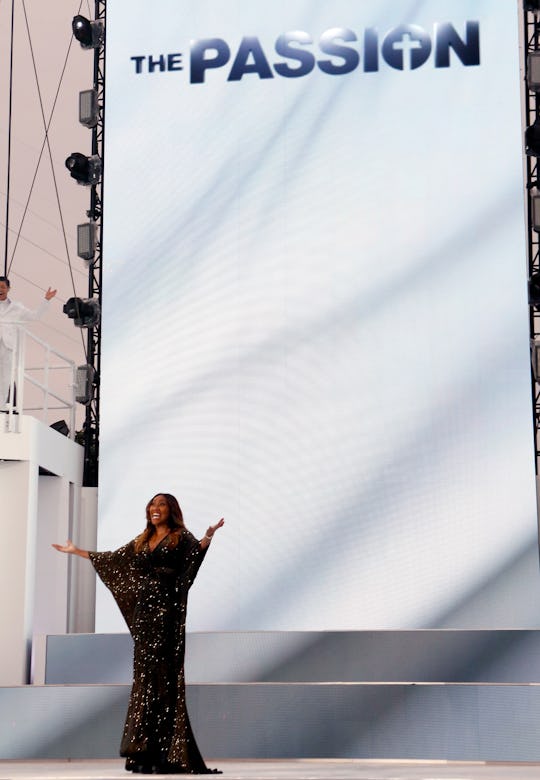 Skip Bolen/Getty Images Entertainment/Getty Images
Who Is Yolanda Adams? She Opened 'The Passion' With Some Serious Sparkle
Even though she ***flawlessly opened up Fox's live version of The Passion on Sunday, March 20, I know I'm not the only person on earth who had a few questions (like, most importantly, who is Yolanda Adams?) The Passion obviously isn't her first opening act, and in fact, Adams has enjoyed a pretty successful career so far. (So shame on me for not hearing about her sooner.) Adams opened the show with "When Love Takes Over," which was originally performed by David Guetta and featured Kelly Rowland, according to Billboard. The song appeared on his studio album, One Love, which was released in April of 2009. Rowland provided the smooth high notes for the song, and it was instantly a radio and summer jam. Though Perry and Adams conceived a different meaning for the song when featuring it as the opening introduction for The Passion, Adams still did the original song justice — and looked stunning while she did it.
Wearing a gorgeous v-neck sparkly gown, Adams took to the stage and was surrounded by a background chorus decked head to toe in white. I loved the juxtaposition of Adams, so bright and eye-catching, flanked by several rows of singers wearing such a color associated with both winter and spring, death and resurrection. Obviously the sparkles made Adams pop, but it was definitely her voice that grabbed our attention. According to TodaysChristianMusic.com, Adams is a Grammy-winning gospel singer who's sold more than 4.5 million albums since 1991. But before we get into that, here she is, killing it at The Passion:
Adams released her first studio album Just As I Am in 1987, and followed that up three years later with Through The Storm, her first release after singing with Tribute Records in 1990. In 1992, Adams released Save the World, which featured her first chart-topping single, "The Battle Is The Lord's." Six years, Adams dedicated her album Fragile Heart to her road manager who died in 1998, and in 2001 she released a live album — The Experience. That album earned Adams her second Grammy award; she won for Best Contemporary Soul Gospel Album.
As if a storied music career and release after release of new studio albums wasn't enough, Adams performed "Never Give Up" at the White House for former President George W. Bush, according to Bush's presidential archives, which earns her forever bragging rights. It also makes her an obvious choice to open The Passion, and it's a great thing that Perry had her on board. It seems Twitter agrees:
Which is basically the seal of approval on an opener. So no matter what happens next on The Passion, congratulations to Adams for such a stunning opener. She wasn't just the right choice — she was the perfect choice.