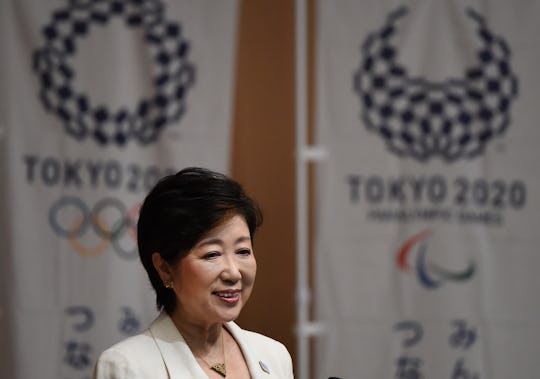 TORU YAMANAKA/AFP/Getty Images
Who Is Yuriko Koike? The Closing Ceremony Flag Went To The Governor Of Tokyo
As the 2016 Olympics' closing ceremony wound down on Sunday night, a final event took place before the Olympic torch was extinguished — the passing of the flag. Honoring a long-standing Olympic tradition, Rio mayor Eduardo Paes passed the flag to a special guest at the Games: Yuriko Koike. If this isn't a tradition you're familiar with, though, you may be asking: who is Yuriko Koike, and what's she doing at the Olympics? Koike is the governor of Tokyo, and she's actually the city's first female governor.
Koike, a former defense minister, will be leading Japan's capital into the next Olympic Games. She was voted into power at the beginning of August and received over 2.9 million votes, according to the BBC, winning the election by a substantial amount. She'll have an uphill battle to deal with: the city will need to reign in a few financial problems that have sprung up thanks to Tokyo's preparation for the 2020 Olympic Games. (Costs are expected to be double or triple the original $7 billion budget.)
According to The Washington Post, Koike has previously compared herself to Democratic presidential candidate Hillary Clinton, and said she admires Margaret Thatcher. "I would like to move forward with a metropolitan administration such as has never happened, never been seen, together with all of you," she told Tokyo when she was voted in, according to The Washington Post.
Koike seems comfortable taking on the Olympic challenges that await her, however. "It's true that we've had some trouble relating to the Olympics," Koike said recently, according to The Independent. "We need to make it clear who's making the decisions. As the governor of the host city, I'd like to take the leadership of the Olympics and Paralympics."
Koike's term will run parallel to the Olympic planning for Tokyo, as well. Having started her role in August, her term as governor of Tokyo will end on July 30, 2020 — six days after the Tokyo Olympics kick off. (That's not a position I'd envy anybody.)
"The citizens of Tokyo are the taxpayers, and we must have their understanding in whatever we do," Koike said on Saturday at a news conference in Rio. She continued:
Before I became governor, there must have been certain procedures that went into the cost calculations and I would like to speak to 2020 organizers and the national government about that. I will not leave white elephants to the taxpayers. I will leave a good legacy. That is the direction I want to see the Games take.
It sounds like Tokyo has a fair — and ambitious — new governor who is ready to take the reins when it comes to Tokyo 2020. And now that the 2016 Olympics have wrapped up in Rio, the pressure is definitely on for Tokyo.