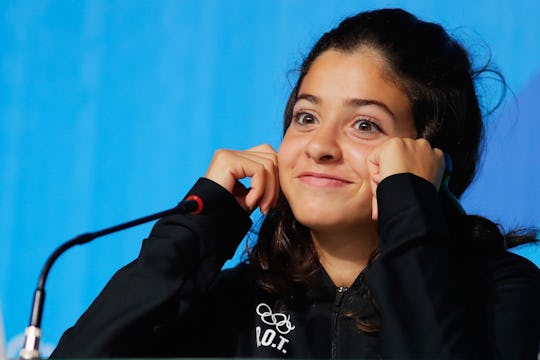 Ker Robertson/Getty Images Sport/Getty Images
Who Is Yusra Mardini? The Refugee Team Swimmer Just Won Her 100M Butterfly Heat
For many athletes it's their dream to compete in the Olympics and one incredibly talented refugee had her dream come true at this year's summer games in Rio de Janeiro. Not everyone had heard of this speedy swimmer's amazing story until Saturday and are now asking: Who is Yusra Mardini? The 18-year-old Syrian refugee is one of 10 athletes who were selected to compete in the first ever Olympics team made up of refugees from some of the most war-torn countries around the world and got some of the loudest cheers during the Olympic opening ceremony on Friday night.
Before finding sanctuary in Germany, Mardini swam for her life, saving others in the process, across the frigid Mediterranean waters when her crowded migrant boat began sinking while carrying 20 other refugees to Europe who were fleeing the civil war in Syria. She and her sister, Sarah, pushed the boat for more than three and a half hours until their boat reached to the Greek island of Lesbos.
On Saturday, she swam her heart out again and won her race — a 100 meter butterfly swimming heat, posting a time of 1:09:21. Even though the semifinals won't be held until Saturday evening, her victory has already gained an amazing amount of excitement on social media.
"Everything was amazing. It was the only thing I ever wanted was to compete in the Olympics," Madrini told Agence France-Presse on Saturday. "I had a good feeling in the water so I'm happy for that."
Nine months ago, the teen swimmer and her sister found refuge in Berlin and caught the attention of a coach while she was swimming at a local sports club. Soon after that, the International Olympic Committee decided to build a team of refugee athletes to draw global attention to the pressing refugee crisis. Madrini qualified, along with nine other men and women from Syria, South Sudan, Ethiopia, and Democratic Republic of the Congo.
According to the UNHCR, the UN Refugee Agency, Madrini said that she hoped to to inspire millions of other refugees who are fleeing war and persecution throughout the world.
"I'm going to make them proud," Madrini told the UNHCR. "I want to represent all the refugees because I want to show everyone that, after the pain, after the storm, comes calm days. I want to inspire them to do something good in their lives."
Even though she's now a refugee in Germany, Madrini also told the agency that she would like to return to Syria when the war stops and wants use her experience in the Olympics and in Germany to teach others all that she has learned.
She added, "I want everyone not to give up on their dreams and do what they feel in their hearts. Even if it's impossible, even if they don't have the right conditions, you never know what will happen, just keep trying. Maybe you'll get a chance like I did. Or maybe you'll make your own chance."