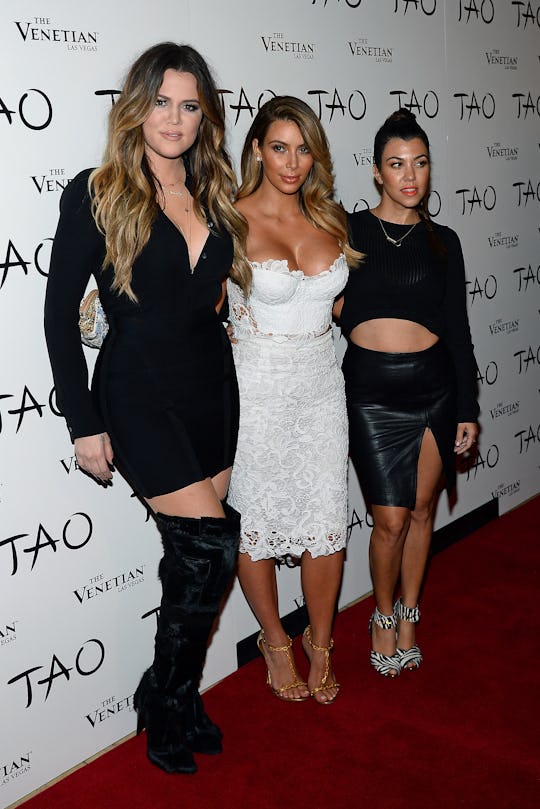 Ethan Miller/Getty Images Entertainment/Getty Images
Khloé Kardashian Reveals Which Sister She Thinks Doles Out The "Best" Parenting Advice
After Khloé Kardashian gave birth to her daughter, True Thompson, in Cleveland, Ohio this past April, she stayed there for a few months. This meant that she was spending time away from her hometown of Los Angeles, California and her sisters. But, now that she is back in Los Angeles, she's now relying on her family members and sisters with kids of their own for advice and support as she figures this whole parenting thing out. And out of her three sisters with kids, it really shouldn't come as a surprise who Khloe Kardashian thinks gives the best parenting advice.
Over the past 10 years, fans have watched the Kardashian-Jenner sisters on their E! reality show, Keeping Up With The Kardashians, interact with one another like sisters do. They get into arguments, but then make up immediately after in almost every episode. Seriously, the bond that Kourtney, Kim, and Khloé Kardashian and Kendall and Kylie Jenner share is incomparable. And now that Kourtney, Kim, Khloé, and Kylie are now moms, their bond is even more special.
Since Khloé is the newest mom out of the bunch, it makes sense that her sisters are doling out parenting advice — and she is leaning on them because of it. "You get so much advice when you become a new mom," Khloé told People. But, Khloé revealed in a new interview with People that she is more than happy when mom-of-three, Kim, is the one giving her advice.
"I have to say, Kim probably has given the best advice because she's not judgmental about any of it," Khloé said.
Khloé explained her reasoning for choosing Kim as the best advice giver — as opposed to Kourtney or Kylie. "She offers up different ideas and either you take it or leave it and that's OK."
But, Khloé's other sisters have tried giving her advice before. This past January, one month after announcing that she was expecting her first child with her boyfriend, Tristan Thompson, Khloé opened up to Jimmy Kimmel during an appearance on Jimmy Kimmel Live! about how Kourtney had been giving her some (unwanted) advice. Khloé said, according to People:
A lot of it is unwanted. I don't know if it's worse, but Kourtney gives a lot of advice. I think it's so sweet, but I don't want to do some of that stuff.
But even before Kim was giving Khloé parenting advice, she was also giving Khloé some pregnancy advice, too. In an interview with Entertainment Tonight this past April, Kim said that she was a little too honest with Khloé about how her pregnancy would be (proving Khloé's point about how she isn't judgmental). Kim said, according to Entertainment Tonight:
Khloé and I have a really good thing going right now. I'm like the real one with her about what goes down and how it's going to go down. You cannot tell her anything right now that's too sensitive because she's so freaked out.
Kim really isn't afraid about being honest with everyone about how motherhood changes you. In a new video, released for the family's Calvin Klein campaign, Kim said that motherhood has allowed her to not care about the opinions of others, which is a philosophy that other moms can follow. Kim said, according to E! News:
Being a mom just makes you not give a f— about anything else but what's going on inside, like, in your home, in your family — like, all the other stuff kind of fades away. Nothing matters but your family, so I think it really helps you center and get grounded.
Given how much Khloé said that she treasures her sister's advice, she could very well adopt this outlook for herself. And at the same time, she can look to Kim to tell her the truth about all aspects of motherhood.