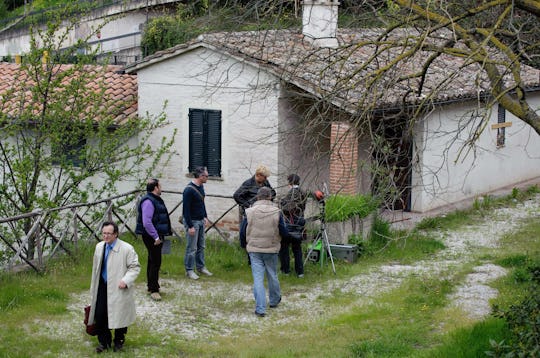 VINCENZO PINTO/AFP/Getty Images
Who Killed Meredith Kercher? Netflix's 'Amanda Knox' Documentary Retells The Crime
On Sept. 30, Netflix will debut a new true crime documentary called Amanda Knox, which unpacks the legal battle of its titular subject. In 2007, Knox's roommate Meredith Kercher was found murdered in the apartment they shared with two other women in Perugia, Italy. They were both college exchange students — Knox, American and Kercher, British — studying abroad at the time. But, in many ways, a legal battle that went on for four years and painted the Italian judicial system in a negative light pulled focus from the victim herself. So who killed Meredith Kercher? Only one person still remains behind bars for her murder.
Although Knox and her Italian boyfriend, Raffaele Sollecito, were immediately implicated in the killing, she and Sollecito were eventually acquitted of all charges in the crime. The only conviction that stuck was that of an Ivory Coast native named Rudy Guede. Knox and Sollecito were convicted in a decision that was later overturned in appeals. Then, the case was retried by a higher court, they were convicted again, and finally the case was definitively overturned in 2015, after Knox and Sollecito spent three years in prison. Guede was found in Germany 10 days after the murder and arrested, having fled Italy after Kercher's death. Despite public scrutiny, Guede was the only person that had compelling physical evidence against him at trial.
According to Guede, he and Kercher met a few months before her murder. They were both at the same nightclub and shared a dance (and supposedly a kiss) on the dance floor. Guede maintains that he hung out with Kercher after that time at the club, including going to her apartment to spend time with Kercher.
The night of Kercher's death, Guede claims that, according to The Daily Beast, at some point he went to the bathroom and, while using it, he heard a scream and rushed out to see what was happening. (The un-flushed contents of the toilet would become damning DNA evidence against him.) He claims to have seen a male figure stabbing Kercher and insists that he saw a silhouette of Knox (he allegedly recognized her voice, but his story is inconsistent, as he says he also was playing music very loudly).
Saying he went into Kercher's room to check on her, Guede left his footprints in her blood on the bedroom floor, and then fled the scene in a panic. But later evidence gathering found a bloody palm print matching Guede under Kercher's body, even though he never claimed to move her. Finally, his DNA was found inside Kercher's body, suggesting a sexually motivated assault.
He maintains his innocence in the crime, but is currently serving a 16 year sentence for the murder of Kercher. (Originally, the sentence was 30 years, but was reduced to 16 because of a fast track trial.) Interestingly, he was sentenced to a much lighter prison term than either Knox or Sollecito when they were first convicted, and he's been eligible for work release for the last two years. Guede waived his eligibility to stay in prison and focus on his education, but he's likely to be up for parole in 2018.