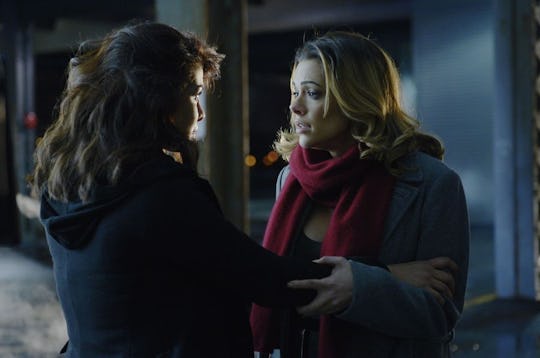 Phillippe Bosse/ABC
Who Killed Natalie On 'Quantico'? Her Murderer Is Still Out There
The midseason premiere of Quantico started out with a huge loss. On the second episode back, Natalie died on Quantico after she and Alex went to track down the potential second bomber. It is one of the biggest loses the show has had since Elias Harper — who was revealed to be the first bomber in the show's winter finale — and the question still stands: who killed Natalie? Whoever did it knew what they were doing by drawing Natalie and Alex to the warehouse, but was Natalie always their target?
At first, I didn't think that Natalie, specifically, was the bomber's target. But when you think about it, someone this calculated knows that there is no cell service in the warehouse, thus moving Alex to outside of the warehouse away from the computer when it blows up. It is a risky move, but this killer doesn't seem afraid to roll the dice. And, unfortunately, it worked for him or her.
Natalie's death seems like it could just be the beginning of a high death count on Quantico. As promised, if Alex didn't do what the terrorist said, those she loved and cared about would start to die. Natalie was just the beginning of that, but I worry that she won't be the last.
When it comes to figuring out the person behind Natalie's death, we have to assume it is someone working within the agency. They are much too connected to everything that was taught at the FBI training academy to not be involved. But is the terrorist in Alex's class? That's where I think fans will be surprised.
There have been a ton of new characters introduced since the midseason premiere. Alex's class and the class above have meshed into one, which means that the suspect pool just doubled. The terrorist could be Drew, or Will, or Iris. The older NATs know so much about Alex's class — they vetted them — so it would be incredibly easy for one of them to use their immense knowledge to pull something like this off.