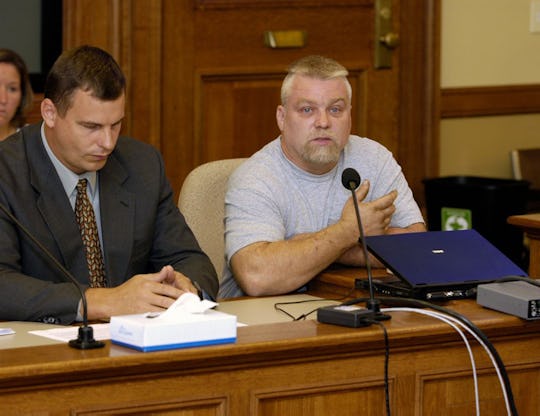 Netflix
Who Killed Teresa Halbach? 4 'Making A Murderer' Theories You Need To Know
By now, it seems as though most of the United States has binge-watched Making a Murderer. Even though thousands of people are following the case, the central question of the Netflix series remains: Who killed Teresa Halbach? Though Steven Avery is serving life in prison for her murder, there are plenty of theories challenging his guilt.
If you haven't been following the case closely, here's the backstory. Way back in the day, Manitowoc, Wisconsin resident Steven Avery was convicted of the 1985 rape and assault of Penny Beerntsen, although Avery and his attorneys maintained that he was innocent. He was sentenced to 32 years in prison without parole for the crime, but was later exonerated when DNA evidence officially proved him innocent in 2003. After his release, Avery filed a $36 million lawsuit against Manitowoc county and its officers. Only a short time later, Avery was arrested again — this time for his part in a separate murder.
As the story goes, photographer Teresa Halbach was discovered dead on Avery's property in 2005 after returning to the family's salvage yard to take a few pictures for AutoTrader Magazine. After a drawn out trial, Avery was found guilty of her murder, along with his nephew, Brendan Dassey, who was convicted of assisting Avery in Halbach's murder. Currently, both men are serving lengthy prison sentences, but those who followed their stories on Making a Murderer debate whether they actually committed a crime.
Why? One reason was that the defense wasn't allowed to suggest alternate suspects during the trial. For that reason, other potential culprits haven't been examined nearly as closely as Avery and his nephew. But if you're doing some sleuthing of your own, here are five other theories regarding who may have actually killed Halbach that you should probably know about:
Steven Avery & Brendan Dassey Actually Did It
Avery was the main suspect in Halbach's murder from the beginning. Business Insider reported that the prosecution brought forward multiple pieces of physical evidence, explaining,
Searches of the property would find Halbach's burned bones in a fire pit, her car partially hidden on the yard, blood stains on the car's interior, and her car keys in Avery's bedroom.
Halbach traveled to the Avery's auto-salvage yard multiple times to take pictures for AutoTrader magazine. According to witness statements, her last visit appeared to coincide with the last time she was seen alive. According to a source that spoke to People, Halbach had also expressed concern about Avery after noticing his strange behavior anytime she would visit. (Once, Avery reportedly answered the door wearing nothing but a towel.) Given all the evidence in police reports, it could very well have been that Avery and Dassey did indeed commit the crime.
The Police Framed Avery
Since the docu-series aired last December, Avery's defense team and his supporters have claimed that the Manitowoc Police framed Avery. From their perspective, Avery was framed in retaliation for the multimillion dollar lawsuit, and since the county police were permitted to take part in the investigation, it was allegedly proof that they had been involved in his conviction somehow. When asked about the common claim that the department planted evidence to help convict Avery or framed Avery in the murder of Teresa Halbach, Manitowoc County Sheriff Robert Hermann told Romper:
Obviously that's false. You get that feeling from the movie that there's a corrupt Sheriff's office up in Manitowoc County, which is the wrong way to paint the case in the movie. There's a lot of evidence in this case that the film or movie does not show. I could go on and on about specific pieces of evidence that weren't depicted in the film.
For their part, the defense argued that Avery's blood found in Halbach's car was actually taken from a sample drawn much earlier that evidenced tampering. Several incriminating items - including Halbach's car keys and a bullet - were only discovered by officers on Avery's property after multiple searches had already been conducted, and the officer who found the keys was unsupervised. It was also unclear whether Dassey's confession stemmed from police suggestion, since video suggested that the interrogating officer may have asked leading questions. Ultimately, the evidence presented did not seem to incriminate the officers, and the Manitowoc Police Department says the confession followed standard protocol. But Avery's supporters are insistent, even as the Police Department vehemently denies any claims of wrongdoing.
Another Avery Did It, Steven Claims
Though Avery's attorneys ultimately couldn't suggest alternate suspects, they did try. According to PEOPLE, Steven suggested that his brothers, Charles and Earl Avery, may have been involved. Romper reached out to Avery's Auto Salvage but was unable to reach them for comment.
The court document PEOPLE obtained claimed that Charles had a history of peculiar behavior around women and "was charged in 1999 with sexual assault by use of force on his then-wife." According to the documents, Steven believed Charles may have been motivated to frame him based on money, business, or personal affairs. PEOPLE's account of the document showed that "Earl Avery was charged with sexually assaulting his two daughters in 1995" and had strong day-to-day familiarity with the auto-salvage yard. The document also suggested Brendan Dassey's mother's then-boyfriend, Scott Tadych, could be guilty based on "his violent and volatile personality" and his arrest history. Romper reached out to Tadych through what appears to be his Facebook page, but he has not responded to a request for comment.
Avery also named Bobby Dassey, Steven's nephew, who was "home at the time that Ms. Halbach was on the property" and who is a hunter, giving him access to weapons. Romper reached out to Bobby through what appears to be his Facebook page but did not receive a response. None of these suggested suspects were recognized in court.
Despite all the accusations in the court documents, however, the Manitowoc County Sheriff's Office still stand by their arrest of Avery, believing him — and no one else, regardless of claims that could very well be erroneous — to still be the guilty party in Halbach's murder.
"The German"
This theory originated in 2009, long before Making a Murderer debuted on Netflix. According to POPSUGAR, a man who lived near Steven's property, "The German," may have killed Halbach. His estranged wife said that he'd visited an auto-salvage yard around the time of Halbach's disappearance and claimed to have met a photographer he called "stupid." After "The German" saw Halbach's missing person flyer, his wife claimed that he had said, "she's dead." In 2005, POPSUGAR reported that she had allegedly made a gruesome discovery:
In November 2005, the same woman discovered a number of suspicious items in German's home: bloody women's panties, fresh bones, a can of lighter fluid with bloody fingerprints, a mason's hammer covered in dark red flecks, graphic pornographic magazines, and surgical gloves. After reporting these things to the Manitowoc County Sheriff's Department during another of her husband's frightening episodes (for which he was arrested), the police rebuffed her by claiming that Teresa's clothing had already been accounted for and that the panties likely belonged to a child.
Uh. Still concerning, guys.
Again, authorities still believe Avery to be the guilty party in the Halbach murder, but that hasn't — and won't – stop those involved in the case from pointing fingers elsewhere.
Images: Netflix (2)