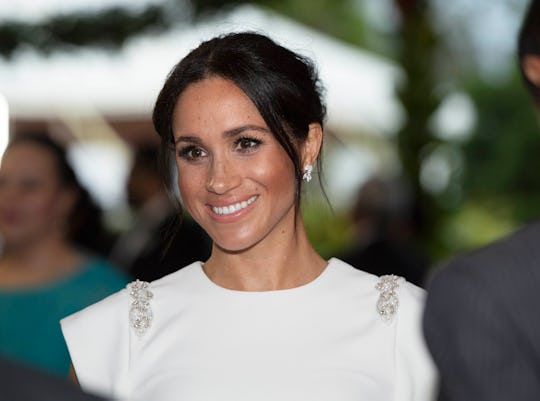 Pool/Getty Images Entertainment/Getty Images
Here's Who Knew About Meghan Markle's Pregnancy Before The Rest Of The World
Fans of the royal family were overjoyed when on Oct. 15 the Duchess and Duke of Sussex announced their baby news. But amid all of the excitement and chatter, some people couldn't help but wonder who knew about Meghan Markle's pregnancy before everyone else. The identity of the master secret keeper might surprise you.
Hiding a pregnancy while in the spotlight can be quite difficult, but it's especially taxing when you're a recognizable face across the globe. Luckily for Markle, however, she has a great team by her side to help with secret keeping and privacy concerns.
One of those people is Don O'Neill, the creative director of fashion brand Theia. O'Neill, according to The Cut, was contacted by Markle's stylist to create a dress for her to wear during her Australian press tour, an assignment he happily accepted. But shortly after the O'Neill shipped the gown, he received word from her stylist about an interesting alteration request.
"We needed to remake it with extra seam allowance," O'Neill recalled, according to People. "We knew immediately why this extra allowance was required, but mum's the word, and with less than one week to my bridal show, all hands were on deck once more."
Of course, re-making a stunning gown in a short period of time is no easy feat.
"We re-made the gown," O'Neill explained, according to E! News. "And I literally had to run down Broadway that Friday night to catch the UPS truck, making it with just two minutes to spare!"
Dress drama aside, it's really amazing Markle has people she can trust during this special time in her life. What every parent deserves is privacy and respect, two things the Duchess of Sussex received from O'Neill.
Now that the pregnancy news is out in the open, Markle and Prince Harry can enjoy this stage in their life without constant speculation. Making matters even better? The two are in the position to share their happiness with their adoring fans. Aww.
The Duke of Sussex touched on this sentiment while addressing the crowd at the Invictus Games, saying, according to E! News: "We have been so happy to be able to celebrate the personal joy of our newest addition with you all."
Additionally, Prince Harry opened up to fans about his hopes for the baby's sex. After a supporter shouted out to the Duke of Sussex that they hope the baby is girl, he responded, according to Time: "So do I."
Although Markle and Prince Harry are happy to share their thrilling news with supporters, it's probably best to refrain from overanalyzing every little thing they do, say, or wear in the coming months. Take speculation about Markle's stacked rings, for instance, an accessory she was photographed with on Oct. 20. The three rings have gems, including Sapphire, Emerald, and marquise diamond, according to People, and a fan on Twitter speculated that the stones might reveal something about Markle's pregnancy.
The person wrote:
"Im hoping Meghan's stacked rings represent their birthstones and Baby Sussex is an April baby.
Meghan's birthstone-green peridot
Baby Sussex birthstone-diamond
Harry's birthstone-blue sapphire."
While it's possible the theory is true (and likely goodhearted), it's probably best for people to chill with the speculation as Markle deserves to enjoy this time on her own terms.
Luckily for Markle, she has a lot of amazing people on her team — like O'Neill — who will protect her privacy during this exciting period of her life.