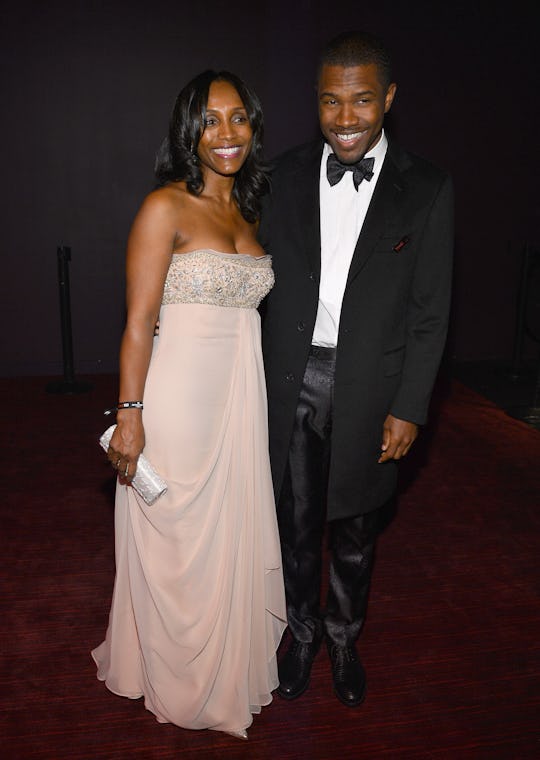 Larry Busacca/Getty Images Entertainment/Getty Images
Who Left The Voicemails On Frank Ocean's 'Blonde'? A Very Special Mom Gets Her Own Track
On Saturday, rapper and artist Frank Ocean quietly released his second studio album, Blonde, exclusively on Apple Music. That night, Ocean launched four pop-up shops that offered limited edition album-companion zines titled Boys Don't Cry, in New York, Chicago, Los Angeles, and London. Distributed for free to interested — and some very lucky — fans, the pop-up shops ran out of copies Boys Don't Cry in as little as three hours. One of the more surprising tracks on his newest album is a minute and a half-long interlude that features a voicemail from an older woman. Who left the voicemails on Frank Ocean's Blonde album?
The "This is Mom, call me, bye," lyric at the end of the track "Be Yourself" is misleading — many listeners assumed the voicemail was from Frank Ocean's mom, Katonya Breaux Riley. But according to an interview in Ocean's own Boys Don't Cry zine, the voicemail is actually from Rosie Watson, the mother of one of Ocean's good friends, Jonathan. Watson calls Ocean "Lonny" and even her nephew, even though the two are not related. "Be Yourself" isn't Watson's first voicemail appearance on one of Ocean's albums, either — another voicemail was a featured interlude on Ocean's first studio album, Channel Orange.
In her interview in Boys Don't Cry, interviewer Danna Takako asks Watson about her voicemails, noting that Watson's voicemails "are the stuff of legends." Watson replied, "I want them to always remember to just be themselves, that they don't have to be the type of man that's described in a typical rap song." Her rationale is especially poignant given the voicemail that appears on Blonde. A transcript of Watson's voicemail on Blonde reads in part:
Listen, stop trying to be somebody else. Don't try to be someone else. Be yourself and know that's good enough. Don't try to be someone else. Don't try to be like someone else, don't try to act like someone else, be yourself. Be secure with yourself. Rely and trust upon your own decisions. On your own beliefs. You understand the things that I've taught you.
Music critics have given overwhelmingly positive reviews for Blonde and its non-traditional album release that included a visual album, Endless, released on Friday, in addition to the pop-up shops and Boys Don't Cry zine. Ocean is one of several music artists to have released visual albums recently — take for example, Beyoncé's Lemonade released in April this year.
After much anticipation for Ocean's new album, fans are finding out that, just like the many layers of the album's unusual release, Blonde has many layers to it as well, such as Watson's voicemail track, "Be Yourself." It will be interesting to see what else fans will uncover as they dive more deeply into Ocean's album in the coming days.