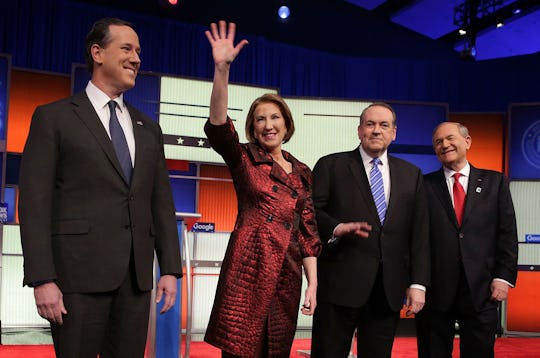 Alex Wong/Getty Images News
Who Lost The Iowa Caucus? These Candidates Didn't Get The Votes
The first official voting event of the season kicked off Monday night. The Iowa caucuses mark the first time that voters get to show their support for the presidential candidates. Registered Democrats and Republicans from across the state went to their respective precincts to either vote or use their physical presence to kind of vote (depending on their party). Who lost the Iowa caucus? A number of Republican candidates and former Maryland Gov. Martin O'Malley polled lowest with voters in the Republican and Democratic parties, and it certainly won't help their campaigns in the coming weeks.
Sure, many presidential candidates have actually gone on to win the nomination without winning Iowa. For example, Arizona Sen. John McCain came in fourth in Iowa in 2008, when he went on to win the Republican Party nomination and faced off against then-Illinois Sen. Barack Obama.
But polling in third or fourth is much different than polling very last in your party. At the end of the night, O'Malley, were polling in last place, and the biggest effect of those polling places will be that donors will then be less likely to back them, which, in turn, will make their campaigns less successful compared to the higher-polling candidates.
O'Malley dropped out of the presidential race because he was polling so low at the Iowa caucus Monday night (poor guy), as did former Arkansas Gov. Mike Huckabee. But the other low-polling Republicans — former Ohio Gov. John Kasich, former Virginia Gov. Jim Gilmore, former Florida Gov. Jeb Bush, Carly Fiorina, former Sen. Rick Santorum, and New Jersey Gov. Chris Christie — didn't seem to have any immediate plans to drop out of the race. All of those candidates were polling at or below 3 percent, according to the Washington Post.
The Republicans who snagged the top five spots were Texas Sen. Ted Cruz, Donald Trump, Florida Sen. Marco Rubio, retired neurosurgeon Ben Carson, and Kentucky Sen. Rand Paul. At nearly midnight, the race between former Secretary of State Hillary Clinton and Vermont Sen. Bernie Sanders was still neck in neck, but Clinton looked like she was closing in on victory. Clinton campaign staffers also dropped hints that she had won, but many on Twitter were quick to point out that she was jumping the gun too quickly.
Historically, the Iowa caucus has been an OK predictor of who nabs the Republican nomination, but it's a better predictor of who will get the Democratic nomination. Still, the New Hampshire primary next week will help cement those possibilities.