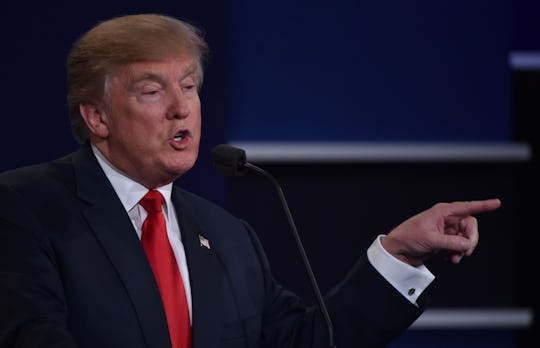 PAUL J. RICHARDS/AFP/Getty Images
Who Lost The Last Presidential Debate? It's The Last Face Off Before Election Day
Going into the third and final presidential debate, it seemed like both Republican presidential nominee Donald Trump and Democratic presidential nominee Hillary Clinton had little to lose on either side of the aisle. Heading into the home stretch ahead of Election Day, it was all eyes on the final presidential debate. Yet when it comes to who won and who lost the final presidential debate, the reactions from millions at home watching show just how up in the air some voters ahead of November 8. Plagued by allegations of sexual assault and email hacks, Wednesday night's results show just how much their final debate performance will influence the race Trump and Clinton in the last weeks before people go to the polls.
Even before the last debate began, Trump employed his nontraditional theatrics by inviting the mother of a Benghazi victim to the night as well as President Obama's half-brother Malik, amping some voters' paranoia by saying the election could be "rigged," and by suggesting Clinton was on drugs during the previous debate. Despite all that chatter, political analysts said Trump only needed to concern himself with one (big) task: winning over voters in the swing states of Ohio, Florida, North Carolina and Pennsylvania. As Ryan Singer said for USA Today, "Trump basically has to win all four of these states to have any chance of winning the White House." Going into the night, Clinton had the advantage in all but one of those states.
Although it is still too soon to see how the dust will settle after the debate, it doesn't look like Trump took the best approach. Early polls seem to indicate a Trump loss — CNN's post-debate poll found that 52 percent of those polled found Clinton to be the victor, while only 39 percent felt Trump won. And some analysts are already saying that he blew his last good chance for the election by not backing his arguments with any substance.
Although there were some strong points for Trump during the night, some notable political analysts are saying Trump made some serious missteps when it came to winning over key groups of voters, such as women. As reporter Adam Nagourney of The New York Times said, "It certainly doesn't help him with voters that he needs to win over. Calling Clinton a nasty woman may not help him a lot with women, and 'bad hombres' wasn't helpful."
In a separate breakdown by analysts for The Los Angeles Times, none said Trump won any section of the debate. As political columnist Doyle McManus concluded, "Trump repeated his familiar talking points — 'Make America Great Again' — but said nothing to expand his support."
Without any reason to believe there will be forward motion for Trump in the polls and little time remaining before the election, it seems election night may not be so suspenseful after all. And with that outcome being the biggest prize of all, it's good enough reason to say Trump lost the final debate.