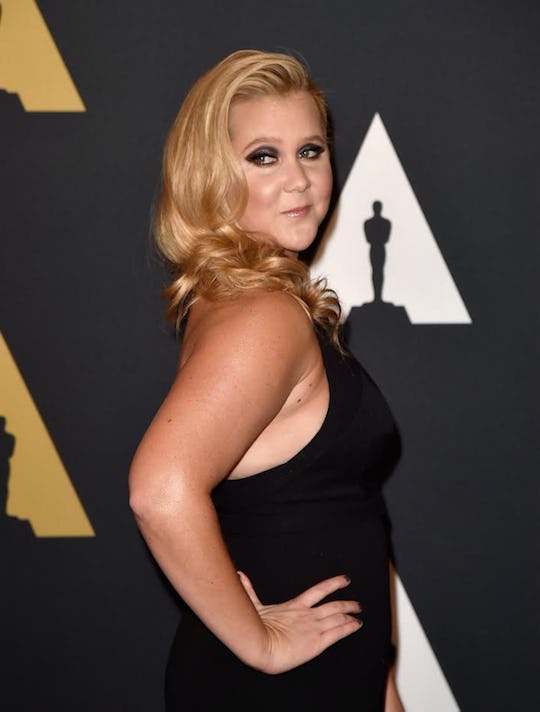 Who Made Barbara Walter's 'The Ten Most Fascinating People' List? The Honorees Aren't Too Surprising
It's that time of year again, you know, when we make top ten lists? Well, let the countdowns begin, baby. Here's one I love every year: the Babs' pick for intriguing peeps. Who made Barbara Walter's Ten Most Fascinating people list? Her special The 10 Most Fascinating People of 2015 is set to air Dec.17 at 9:30 p.m ET on ABC. Tonight's special marks 23 years worth of celebrating people for their ability to captivate and allure the American public.
Ever wonder what makes someone enthralling? Certainly, a person has to accomplish some kind of feat or do something compelling to garner attention. Plus, in order to intrigue, a fascinating person has to get others talking about her or him. One of my mentors says that in order to achieve success, you have to possess any two of the following three qualities: talent, persistence, and luck. I'd say the same goes for the ability to be a fascinating person. So without further ado, here they are—from an athlete, to a comedic genius, to a politician who's taken the election season by storm, here is Barbara Walters' top ten fascinating people of 2015.
Amy Schumer
The comedian had 2015 in the palm of her hand. From her hit Trainwreck to her amazing TV show Inside Amy Schumer, Schumer was one of Hollywood's power players this year. Her SAG and Golden Globe nods prove that Tinsel Town has taken note, and is giving her deserved It-Girl Year.
Bradley Cooper
He once played a jerk who Carrie Bradshaw dissed on SATC, but after a string up blockbusters, including his Oscar-nominated turn in Sniper and upcoming role in the buzzed-about Joy with JLaw, after 2015, Ms. Bradshaw would definitely buy him a cosmo.
Tracy Morgan
The second comedian to make the list (guess we need people to make us laugh) is Tracy Morgan, who survived a near-fatal car crash in 2014. Not only did he recoup, he returned to SNL, and fans couldn't be happier.
Misty Copeland
Making her debut, as well as history as the first African American principal ballerina at New York City's American Ballet Theater, Misty Copeland also slayed on Broadway in On The Town.
Bernie Sanders
Making a run for the Oval Office, this Vermont Senator has made news for wanting to legalize weed as well as his condemnation of gun violence, racism, xenophobia, and lots of other worthy liberal causes. He also made a splash when Larry David parodied him on SNL.
Donna Karan
The prominent fashion designer left her eponymous label to found Urban Zen, a luxury lifestyle brand that donates 10 percent of its revenue to the Urban Zen Foundation, which is dedicated to preserving culture and philanthropy.
Ronda Rousey
This formerly undefeated UFC super-fighter, considered one of the most talented fighters in the UFC, suffered a major upset when she was knocked out by Holly Holm. Fans can hardly wait for the rematch.
Donald Trump
Love him (?) or hate him, or love to hate him, The Donald certainly was on everyone's radar since announcing his bid for the Presidency in June. From his racist remarks about everyone from Mexicans to Jews to Syrian refugees, to his insistence of "building a wall," the GOP frontrunner certainly knows how to get people talking.
Jeff Bezos
The founder of Amazon, which helped establish an entire new way of doing business on the Internet two decades ago, Jeff Bezos had quite the year. As Amazon stock skyrocketed, Bezos landed at the #5 position on Forbes 2015 list of billionaires. I mean, how many lives have been made easier with the magic that is Amazon Prime?
Caitlyn Jenner
And the most fascinating person of 2015 is... Caitlyn Jenner. Bringing not only the process of transitioning into a mainstream cultural discussion, Jenner also asked Americans to rethink, reimagine, and reevaluate how we think and talk about gender in a way that would've been awesome if we had done it without needing an A-list celeb to embody the issue. Jenner shared her story with the entire world, proving that it's never too late to honor who you truly are. And for that, she's honored with the coveted #1 spot on Barbara Walters' Top Ten Most Fascinating people of 2015 list.
Images: Kevin Winter, Mike Windle, Monica Schipper, Alberto E. Rodriguez, Nicholas Hunt, Alex Wong, Dimitrios Kambouris, Quinn Rooney, Ralph Freso, Jamie McCarthy/Getty Images